Solar power lights up a Myanmar school
2021.02.07
Trina Solar has recently completed an off-grid PV power generation project at Sitagu Buddhist Academy, Yangon, Myanmar, enabling school to have a stable supply of electricity. The project is part of "Green benefits – Mekong-Lancang Cooperation (MLC) photovoltaic off-grid power generation project" sponsored by Overseas Chinese Charity Foundation Of China (OCCFC), in which Trina Solar provides technical and partial financial support, devoting to power development in Myanmar, Cambodia and Laos.
Workers installing Trina Solar panels on the rooftop of Sitagu Buddhist Academy
Sitagu Buddhist Academy is a charity based school integrated with a temple. The area where the school is located contains inadequate infrastructure and lacks in accessibility to a reliable electricity grid. Students at Sitagu Buddhist Academy were prone to suffering from power shortages especially on rainy days.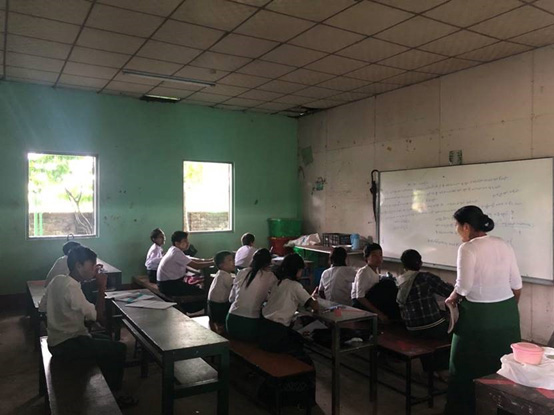 Students having a class at Sitagu Buddhist Academy
In consideration to the environmental condition at Sitagu Buddhist Academy, Trina Solar customized the solution of 50kW photovoltaic system with 200kWh energy storage system, which could generate 225 kWh and store 200 kWh of electrical energy per day resolving the issue of power shortages at Sitagu Buddhist Academy.
"I believe this is a great project that we have put together in order to help education in Myanmar. Besides, our projects in Laos and Cambodia will be completed soon. Trina Solar undertakes the corporate mission of 'providing solar energy for all', hoping to provide the leading PV solutions to improve local people's happiness and overall well-being. We wish to promote sustainable economic development in the Lancang-Mekong region." said Simon Li, President and General Manager of Asia Pacific Business Unit (APBU) of Trina Solar.