19/09/02
Business of Solar
Once all the project funding, system designing and materials sourcing come together for a solar PV array, it's time to install the components and build out the new facility.
For utility-scale project cost control, two of the most important factors to consider during installation are the duration and the quality of the work. The system must be installed in a timely fashion that sticks to the schedule. At the same time, it must also be installed properly to adhere to strict safety regulations. Failing to accomplish either of these feats during the installation phase can create consequences ranging from delayed completion to a faulty or unsafe project.
Building Solar PV Installations Properly
A properly installed solar PV array begins with procuring high-quality components. Parts and equipment made with sub-par materials or poor craftsmanship can lead to connection problems and poor performance down the road.
The system's longevity should always be the primary imperative. The overall durability of the system can either be something project managers rarely have to think about, or it can lead to a long-term liability.
It's crucial that developers seek out and partner with a Tier 1 manufacturer of solar modules. These manufacturers focus on producing high-quality solar panels that can stand up to harsh conditions and exposure to the elements. While a lower upfront cost might initially sound enticing, chances are these measures ultimately jeopardize the quality of the solar components. Cutting corners can lead to serious problems for the installation down the road and cost more money in the long run.
Additionally, a dedicated supply chain needs to be in place for the balance of system. Long-standing partnerships up and down the supply chain help ensure strict quality control for all of these crucial pieces.
Not only should all of these components be high quality, but they should be easy to assemble. Complicated drawings and staggered delivery times create nightmares and increase overhead costs.
When it comes down to it, developers benefit from a one-stop shop that manufactures high-quality solar modules, has a supply chain that's second to none and brings along technicians to help assemble an easy-to-build solar PV solution.
Shortening Installation Times
While it's important for on-site field technicians to properly and safely install all the components for the solar PV system, they must also accomplish this task quickly. The longer it takes to complete the installation, the more man-hours and potential equipment rental costs the project will accumulate.
Partnering with a one-stop solar shop can increase project reliability by combining quality components, guaranteed site compatibility and on time delivery.
Technicians need buffer space to allow for field adjustments. Since solar developments are prone to weather and other delays, the less time needed to build out the system, the lower the chance for potential problematic delays to arise. By delivering the complete system in a timely fashion, it reduces installation time. This may also provide moreof a window to compensate for any inaccuracies in previous stages, such as the placement of foundations.
Trina Solar recently took a major step forward with the launch of TrinaPro. As all-in-one energy solution, it is designed to help EPCs, developers and financiers of utility-scale projects guarantee success on the project. Trina Solar's been in the business for more than 20 years and can bring that expertise to the project. TrinaPro maximizes component optimization and ensures that when the project operator is ready to flip on the power switch, Trina technicians will be on-site to ensure everything is working correctly. TrinaPro's solar site field installation supervision ensures the build out happens efficiently and effectively to get the system safely generating power sooner.
Click here to learn more about how TrinaPro helps with on-site solar field installation supervision.
Smart Energy Solutions
delivered straight to your inbox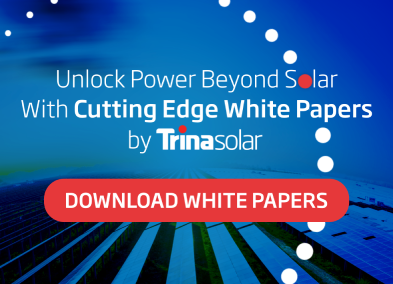 Visit us at the following events in 2023