19/07/03
Business of Solar,Industry News
Excerpt from PVmen.com article
Over the past decade, China's solar photovoltaic (PV) industry has witnessed a remarkable progress in the field of science and technology. It has thus become one of world's leading industries. PV companies are working to succeed over their rivals by fighting tooth and nail on the technology and R&D front. It is evident that no leading companies in the field of PV manufacturing can stand in the long run without solid technical strength.
In line with development of new 'high efficiency modules' in recent years, double-glass technology has come to the fore when it comes to innovation and aesthetics. This in turn has meant there are now even more useful applications for PV products.
Earliest mass production with highest highest yield
When it comes to double-glass, Trina Solar's double-glass module is the most sought after product in the market. It was one of the first companies to promote and commercialize double-glass modules, and it has won industry-wide recognition for its high quality. By the end of 2018, Trina Solar had shipped double-glass modules with a total output of nearly 3GW, topping the world list.
"Throughout the industry, Trina Solar leaves most of its competitors way behind in terms of the yield of our present double-glass modules," says Yin Rongfang, executive vice president of Trina Solar.
Yin's confidence comes from Trina Solar's technical strength. Over the past 20 years, Trina Solar has been constantly pursuing a path of technological innovation, which involves consistently investing in R&D.
Product superiority comes from technology accumulation. Trina Solar's technical team in 2012 concentrated R&D efforts into double-glass technology and then the double-glass modules were put into mass production in 2013. Trina Solar was one of the first companies to offer 'high-efficiency' double-glass modules.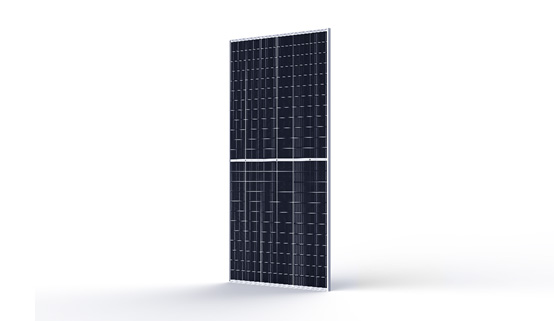 (Photo: Trina Solar DUOMAX M-DEG15M.20(II), Half-cut, Multi-busbar, 390-410W)
That same year, China's utility-scale PV power plants began to spring up across the country. Domestic installed PV capacity has been growing by over 50% per annum, sometimes even 80%. The scale of installed capacity gets larger and larger. The power plants have also been built in more diverse environments, such as on fish farms, tidal flats, in deserts, etc.
Double-glass module is not subject to potential induced degradation (PID) and boasts excellent durability, low permeability, long life cycle and other superior qualities. Its many advantages have enabled it to yield impressive results in China's Top Runner Program.
"China's Top Runner Program provides opportunities to PV enterprises to develop world leading technologies, introduce engineering innovation and design innovation to the market and create favorable conditions that can drive China's PV market development. This program aims to propel the development of new technologies. Trina Solar is an industry-leading company that has achieved highly consistent targets with the goal of this program," Yin tells PV-Tech.
New journey and new start after technology integration
After years of growth, double-glass modules have now become a must-have option for PV module manufacturers to sell their products. In the year 2018, double-glass modules with a total output reaching up to 12GW were sold in China. Thanks to agrivoltaics – which incorporates solar modules into greenhouses – as well the development of hydro-solar PV plants, building integrated voltaics (BIPV) and other new types of PV power plants; the market for double-glass modules will be further broadened.
In 2019, grid parity projects have become a focus for development of China's PV industry and its market penetration has been further accelerating product development and technology advancement. Meanwhile, it has pushed the industry towards multi-technology advancement. Specifically speaking, leading module-related technologies represented by shingled-cell, bifacial, half-cut-cell and MBB modules are going to be combined with 'high efficiency' cell technologies as Mono, PERC and Poly (black silicon) to enhance reliability and power generation efficiency of PV system with lower cost per kilowatt hour.
The above-mentioned technologies can be integrated with the double-glass design. Especially, there is an obvious trend now towards bifacial solar modules, so double-glass bifacial module is considered inevitable for further technology development of modules.
Double-glass bifacial module technology, with its cost performance improving significantly, has received greater attention from the capital market and industry consulting organizations. "With bifacial modules' power generation value more recognized by terminal power companies, double-glass bifacial module is expected to become a mainstream product in the future and its market share is estimated to reach up to 42% in 2021.
The double-glass bifacial module in 2019 is going to spread its wing starting from the domestic market. Under the pressure of subsidy-free plant development, such modules will be widely applied to utility-scale PV plants and then to distributed PV projects.
Although some overseas markets are still at the standards and field verification stage, other countries that suffer from extremely competitive electricity prices, such as: the US, Australia, South America and the Middle East are becoming more receptive and willing to adopt double glass bifacial modules.
There may be an easy-to-see increase in the second half of 2019," says Gessey PV Consulting in China.
In March this year, Trina Solar released its next generation of four module series, including an updated version of its double-glass modules and bifacial double-glass modules, which maximizes the bifacial generation performance.
For Trina Solar, the product release also means the second take-off of double-glass modules, with expanded production capacity and higher availability.
Yin asks rhetorically: "Why is it called the second take-off? We have already realized our high shipment goal and lead the industry, now we have higher expectations with regards to double-glass modules. Presently, double-glass modules are subject to some non-technical problems, failing to make due and effective breakthrough. It is a pity. With technical breakthrough going to be made in bifacial modules and application scenarios diversified, we hope that our new product can be applied widely in larger numbers. We also hope that with our untiring efforts and the whole industry, we can put this high-performance and cost-effective product at a new application phase. "
Trina Solar is the world's first company that obtained PID test certificate from TÜV Rheinland, it is also the industry-first company in the Asian-Pacific region that acquired fire-safety Class A certification for double-glass modules and China's Top Runner Program Certification.
"In the future, Trina Solar will continue to lead the industry and set the benchmark of double-glass module, and will make greater contributions in the development and technology advancement of the world's PV industry," Yin stated.
Smart Energy Solutions
delivered straight to your inbox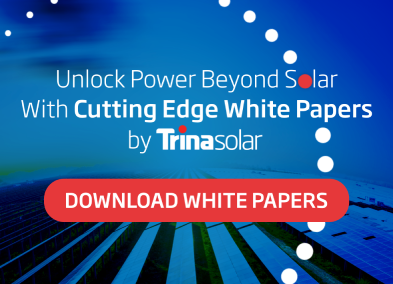 Visit us at the following events in 2023