18/10/31
Responsible Earth,Trina Success
Trina Solar has recently been awarded a gold medal by EcoVadis, the world's leading organization for assessing companies' Corporate Social Responsibility (CSR). With an overall score of 65, Trina Solar ranks in the top 3% amongst all companies in the electronic components and boards manufacturing sector.
Headquartered in Paris, EcoVadis assesses global suppliers' policies and actions and is currently used by over 300 multinational companies to monitor CSR performance of their trading partners. The company's comprehensive assessment is based on 21 CSR indicators across 4 themes: Environment, Labor & Human Rights, Ethics, and Sustainable Procurement. This methodology is derived from global CSR standards as the United Nations' Global Impact, the Global Reporting Initiative, and International Labour Organization Conventions, to name a few.
In this year's assessment, Trina Solar obtained a remarkable score of 70 for both environment and labor themes, placing it in the top 6% and 5% respectively for each theme across the industry. Trina Solar Chairman and CEO Mr. Gao Jifan commented that this accomplishment has affirmed the company's continual efforts of promoting fair labor practices while developing sustainable energy solutions.
Trina Solar Chairman and CEO Mr. Gao Jifan said that, the gold medal demonstrated Trina Solar's lasting efforts and achievements in promoting sustainable development. Trina Solar is more than just a carrier of green energy, it is a real practitioner. To become a global leader of energy Internet of Things, Trina Solar will continuously fulfill corporate social responsibility, and carry out its corporate mission of "Solar Energy for All".
Smart Energy Solutions
delivered straight to your inbox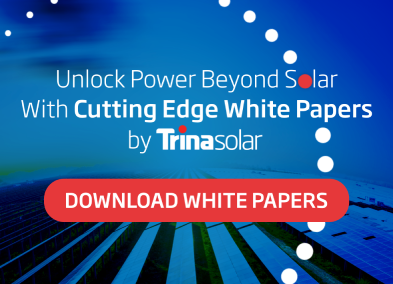 Visit us at the following events in 2023