Trina Solar 'Leap Frogging' In Technology
2019.10.21
Trina Solar has differentiated itself in Australia by having the widest range and most power efficient modules.
Some of Trina Solar's top-selling products on display, at the All Energy Australia 2019 trade show, include: Duomax N, Duomax Twin and HoneyBlack M.
DuoMax N is a bifacial module that uses a leading technology that Trina Solar pioneered called i-TOPCon. The module n-type cells use multi-busbar and half-cut technology.
DuoMax Twin is a p-type bifacial module that uses multi-busbar and half-cut cell technology. The cells are monocrystalline PERC and are also available in a bigger cell size to reach a higher power bin
HoneyBlack M is a module that uses black backsheet and black frame giving a full black appearance, ideal for dark coloured roofs. The cells are monocrystalline PERC.
Trina Solar country sales manager, Govind Kant, says: "We have competitors in Australia that only offer modules that use monoPERC cells and we have others in the market that only have modules that use polycrystalline. But we have both."
"Our range of modules also incorporate key technologies, such as: half-cut cell technology, multi-busbar technology, i-TOPCon technology, bi-facial technology and so on."
He says: "We also have both n-type technology and p-type technology. N-type is a relatively new technology. To mass produce n-type cells, that is a manufacturing capability that is complex. Many have yet to master it, but we have. We are, for example, mass producing 425W n-type i-TOPCon double-glass bifacial modules with a module efficiency of 20.2%."
A key benefit of n-type cells is they are less prone to metallic and other defects. The n-type cells are also more immune to light induced degradation and have superior performance at higher temperatures, a very useful benefit in Australia's hot summer environment.
"We foresee demand for n-type in Australia is coming from solar farm developers who use the n-type bi-facial modules in conjunction with solar tracker mounting," says Kant. "These users are targeting maximum efficiency and benefit from n-type bifacial cell technology, as the technology increases power generation on both the front and back sides of the panels."
"Demand is also coming from residential customers that may have limited roof space for solar modules. These users need to maximise the power footprint of their installation and stand to gain from the higher efficiencies offered by n-type," he says.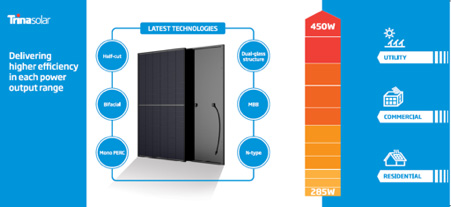 Kant says Trina Solar has the most comprehensive product range available in Australia and this is important because it means engineering, procurement and construction (EPC) companies that use Trina Solar modules can work on many varied projects and meet the various needs of customers across the country.
Another key differentiator between Trina Solar is our modules have higher module efficiency of more than 20%. Some manufacturers have moved to larger size modules but this reduces the module's efficiency, says Kant. "To calculate efficiency, it is a simple formula of power versus surface area."
"Our high power modules equate to very big savings for our customers, because you need fewer panels, fewer mounting systems and less cabling for the project's required amount of power output. Fewer modules and mounting systems reduces total installation time and also means you use less land or roof space," he says.
At All Energy Australia 2019, Trina Solar will showcase its new range of modules that incorporate larger-size solar cells that are 166mm in diameter.
"We are leap frogging the green technology market in Australia by offering modules that incorporate larger cells, 166mm in diameter, and deliver up to 445W and 450W of power. Deliveries of these new modules to Australia will commence around March," says Kant.
The new modules include the TallMax M, which is a monocrystalline module, with 72 cell layout, that has a power range of 430-450W with 20.6% maximum efficiency.
There is also the DuoMax Twin, which is a bifacial monocrystalline module, with 72 cell layout that has a power output of 430-445W and maximum efficiency of 20.2%. This bifacial module has up to 25% additional power gain from the back side depending on the albedo. Albedo is a term that refers to how much light, that hits a surface, is reflected without being absorbed.