TrinaTracker Presents Innovative Solutions to Increase Tracker Reliability While Reducing O&M Costs
2021.10.26
TrinaTracker, a leading tracker manufacturer and business unit of Trina Solar Co., Ltd. (SHA:688599), explains the implementation of innovative solutions to increase tracker system lifecycle reliability and reduce operating and maintenance costs in a webinar "Tracker Development Solutions that Increase Reliability and Reduce Operation and Maintenance Costs".
The webinar introduced and illustrated the content of the latest white paper, launched by the company with the same name.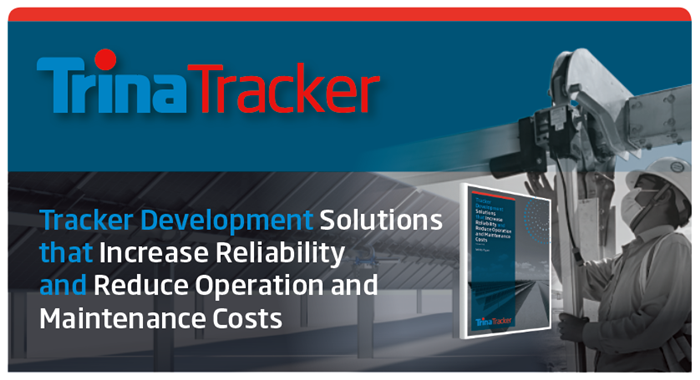 TrinaTracker discussed how the company's Design for Assembly and Maintenance approach resulted in more efficient and less resource intensive operations and maintenance requirements, reducing operating expenses (OPEX) and risk of energy loss due to plant downtime that occurs during the implementation of repairing and replacing tasks during the operational phase of the project.
Additionally, TrinaTracker enhanced the importance of "preventive design as key to prevent failure rate" and "quality standards crucial to achieve non-stop availability". In the webinar, Álvaro Gallegos, TrinaTracker Head of Project Management; Andrew Gilhooly, Head of TrinaTracker and Utility Solution Sales for Trina Solar in Asia Pacific; and Felix Sabando, TrinaTracker Support Structure Research and Development Senior Manager, commented on how TrinaTracker optimized the tracker designs of Agile 1P and Vanguard 2P to incorporate up to a 33% reduction in component count. Both presenters particularly emphasized how reducing parts will lead to a decrease in operation and maintenance costs.
Moreover, Steve Caldwell, Senior Project Manager at Enzen, provided valuable insights gathered from his broad experience of taking innovative approaches to operating and maintaining a vast capacity of renewable generator deployments in Australia. He also provided learnings from Enzen's worldwide Asset Management experience.
The speakers also discussed the smart O&M innovative solutions including compatible mainstream cleaning robots and proprietary TrinaTracker SCADA system.
Álvaro Gallegos, Head of Project Management at TrinaTracker, stated: "TrinaTracker has always focused on increasing the trackers' reliability and facilitating O&M activities to clients, aiming its resources to reduce failure rate and achieve optimum energy production. TrinaTracker's own internal validation methodology establishes strict testing to ratify the components' high-quality standards. The components do not receive internal validation until they proved to achieve the targeted failure rate established for each one."
Andrew Gilhooly, Head of TrinaTracker and Utility Solution Sales for Trina Solar in Asia Pacific, commented: "For solar asset owners to attain lowest LCOE, the highest long term energy outcome needs to be realized, and this is inextricably linked to ensuring the tracker technology employed is both reliable yet cost effective to maintain. TrinaTracker employs a whole of life approach during design to ensure maximum product reliability and employs innovative solutions to minimise O&M OPEX spend in service for our customers."
Steve Caldwell, Senior Project Manager at Enzen, said: "Risk and Opportunity, in a transitional world that is approaching a paradigm shift in energy production, the Renewables Market is a competitive jungle. I have found that focusing on some basic principles will inevitably lead to market leadership. Firstly, understand the industry best practices, secondly, match performance against that standard and thirdly, Identify areas of opportunity to optimize the offering. OPEX is one such area."
To watch: "Tracker Development Solutions that Increase Reliability and Reduce Operation Costs" and download the related white paper, please click here: https://pages.trinasolar.com/en-Preventive-and-maintenance.html
For more information about TrinaTracker, please visit https://www.trinasolar.com/en-apac/product/TrinaTracker