Imagine a world where you can get even higher energy yields and lower Levelized Cost of Energy (LCOE) for your solar systems. This is now a reality with SuperTrack, the innovative smart control system developed by TrinaTracker.
SuperTrack was designed to surpass traditional tracking algorithms and has gained popularity around the world for its exceptional results. As of August 2022, SuperTrack reached 1 GW in global orders.
But how exactly does SuperTrack achieve these feats? Let's explore the five remarkable features in SuperTrack that boost yield and reduce LCOE.

1.SuperTrack Accounts for Bifaciality
We are now in the era of bifacial modules, which absorb irradiance from both the front and back of the module. More and more installations are now using bifacial modules, especially in sites with high ground reflection, as the backside of the module can also capture reflected light to generate solar energy.
Unlike conventional algorithms that only consider the front side of the modules when calculating the optimal tracking angle, SuperTrack accounts for bifaciality. The Smart Tracking Algorithm (STA) of SuperTrack identifies power generation characteristics under the influence of multiple parameters, such as the maximum total irradiance received on both the front and rear side of the module, meteorological data, and system operation data. By leveraging on these parameters, SuperTrack ensures real-time optimization of the tracking angle and maximum power generation on cloudy days or in other conditions with highly diffused irradiance.
2.SuperTrack Accounts for Complex Sites
Most installation sites are now more complex than ever before. Rugged terrain and cloudy weather are now common scenarios – a far cry from the ideal site with high direct irradiance and flat terrain.
Unlike conventional tracking algorithms, SuperTrack excels in complex sites, especially those in high diffuse irradiance weather, such as cloudy and overcast days. It calculates the optimal tracking angle by, first, determining the type of weather through the ratio between direct and diffused irradiation – an overcast day is defined as a day with very low to no direct irradiation, while a cloudy day is when the ratio of direct irradiation is relatively low (at about 20%). Then, it determines the optimal angle based on a variety of parameters set by TrinaTracker's expert team.
For instance, in high diffuse irradiance weather, STA keeps trackers at a small angle to capture more diffuse irradiation, which improves power generation and reduces the number of tracker rotations compared to conventional astronomical algorithms. This helps to extend the service life of the motor and tracker, and ensures higher power generation over a longer lifespan for the tracker.
3.SuperTrack Intelligently Reduces Energy Losses from Shading
The more shading there is on the solar module, the less light it captures, and the less energy it generates. Conventional tracking algorithms tend to avoid row-on-row shading by reducing the tracking angle as much as possible. While this may work in an ideal site, it is not realistic to do so in every site, because some uneven terrains may have row-on-row shading even when the tracker is kept flat.
SuperTrack incorporates the Smart Backtracking Algorithm (SBA), which reduces generation losses due to row-to-row shading especially in terrains with uneven slopes. It comes with intelligent self-sensing, self-training, self-decision-making capabilities, which can:
Identify tracker shading based on sensor devices and system operation data, which are previously obtained using disturbance training and/or UAV sensing technology,
Calculate the tracker's optimal tracking angle to minimize shading, and
Obtain the backtracking angle group.
SBA comprises a machine learning algorithm and patented mini-shading model, which considers the irradiation loss and power generation loss corresponding to each possible adjustment angle to determine the optimal output angle for energy yield.

Row-on-row shading in uneven terrains with the conventional tracking algorithm compared to SBA
The angle adjustment is mainly based on shading caused by the more common east-west terrain differences. However, SBA is also able to optimize tracking angle for areas where shading is skewed or slanted due to a high south and low north terrain and vice versa, which ensures the maximum output of PV strings across different types of terrain.
In multi-row trackers, which are commonly used in flat terrain, SBA will uniformly fine-tune the backtracking angle during the backtracking stage, to balance shading loss and reduce to inverse the tracking angle, balance the shading loss, and reduce the angular irradiation loss through the micro-shading model, and finally provide an optimal backtracking angle for overall energy yield.
4.SuperTrack Incorporates a "Broadcast + Polling" Communication Strategy
SuperTrack is part of the wider TrinaTracker Smart Tracking System, which also includes the:
tracker,
tracker control unit (TCU), the electrical equipment that controls the trackers to obtain the maximum electric output,
network control unit (NCU), which manages the TCU tracking controller and information interaction with the data management system, and
Trina Smart Cloud, the intelligent SCADA (Supervisory Control and Data Acquisition) system
It is also integrated in the photovoltaic tracking system and can flexibly match with inverters and other equipment.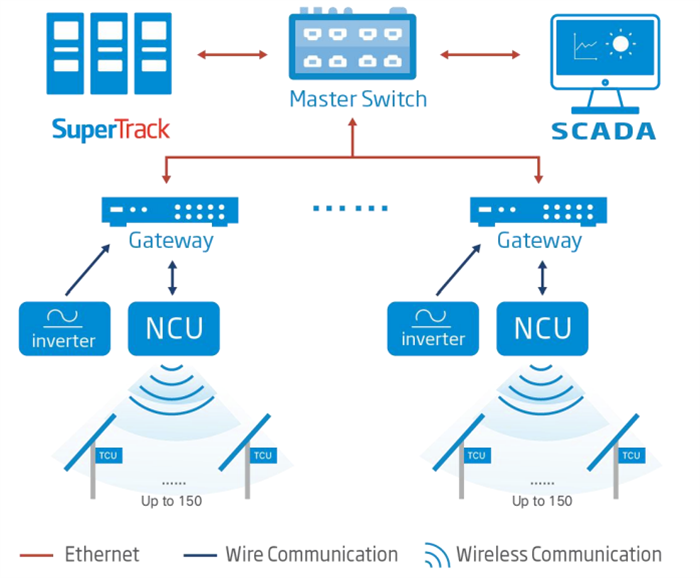 The SuperTrack System Architecture
This wireless communication and self-powered technology is known as the 'Broadcast + Polling' Communication Control Strategy. It reduces the use of communication and power cables and related wiring and labor costs and ensures communication efficiency and stability.
5.SuperTrack Comes with Extreme Weather Protection
Reliability in extreme weather conditions is paramount for any solar system. SuperTrack is suitable for any project where solar trackers can be used. But how is its resilience in extreme weather?
Relying on the intelligent control of the controller, SuperTrack integrates multiple extreme weather protection strategies. Both the TCU and NCU are equipped with strong wind protection, heavy rain cleaning and automatic snow removal to ensure reliability in poor weather conditions.
It also combines wind tunnel testing and CFD simulation to improve the reliability and O&M efficiency of the tracker.
Through these functionalities, SuperTrack achieves a boost of energy yield by up to 8% and therefore reduces the LCOE significantly. SuperTrack has also made significant strides in projects worldwide and have outperformed traditional algorithms in the field. These include:
Project Name

Commission Date

Energy Gain*

Tongchuan 30 MW mountain project

May 2020

3.06% annually

Changzhou empirical study site

2020

4.64% on a typical sunny day
9.41% on typical overcast days

Nangong 400 MW project

June 2021

3.84% in high diffuse irradiation conditions
8.03% in typical overcast days
*Results validated by China General Certification (CGC) and Société Générale de Surveillance (SGS), the world's leading testing, inspection, and certification company.
A separate study also found that for every 1% increase in energy yield with SuperTrack, the internal rate of return improves by 0.2%, and when internal rate of return remains the same and power generation improves by 1%, the total project investment cost decreases by RMB 0.04/W.
Want to learn more? Download the SuperTrack white paper here.
Smart Energy Solutions
delivered straight to your inbox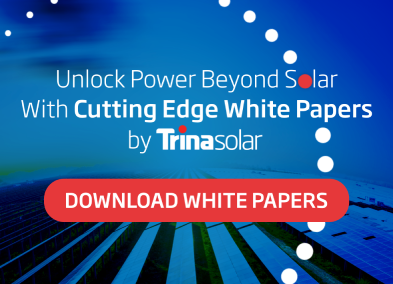 Visit us at the following events in 2023