21/08/23
Business of Solar
Enough sunlight reaches the earth in one hour to power the world for an entire year. Unlike the substantial resources and capital needed to extract and burn fossil fuels, anyone can purchase and install solar panels to take advantage of this abundance of sunlight.
Solar generates significant long-term savings on electricity bills. Rooftop solar installations skyrocketed in Vietnam last year. PV-Tech, an international solar media, indicates more than 9GWp of rooftop solar installed in the country prior to a hard installation deadline for feed-in tariffs in 2020. Todd Li, Trina Solar's president of Asia-Pacific region, adds his comments and shares ten trends about rooftop solar installations to watch in the upcoming years in Vietnam.
1.Ultra-High Power Solar Module
Ultra-high power modules with higher efficiency allow you to maximize the amount of power from the limited commercial rooftop space available. A few years ago, 300W and 400W modules were the norm in the commercial rooftop sector, but now as higher power modules become available with technological improvements, customers are fast changing to buy ultra-high power modules such as Trina Solar 500W+ Vertex and 600W+ Vertex modules with more than 21% of efficiency.
Higher power solar modules means you use fewer number of modules for the total amount of energy output required from the project. Hence, it is a great way to generate cost savings!
2.Larger solar cells
A new innovative technology in the industry, and one that is now the new global industry standard, is the use of larger size solar cells that are 210mm in diameter. Earlier generation solar modules have solar cells that are 156mm and 166mm in diameter.
Trina Solar is one of the pioneers of 210mm solar cells, and it leads the era of 500W+ and then 600W+ module power output. The benefit of larger solar cells is each produces more power. But larger solar cells don't equate to larger modules. Because each cell produces more power, each module needs fewer a number of cells for the required power output.
3.Importance of Warranties and Bankability
Customers who install solar on their rooftop need to be confident that the system will be reliable to generate power over the module lifetime and that the company that made the modules will be around in future to provide after sales support if required. Many commercial rooftop projects are financed by banks, so financial institutions also need to be confident about the product manufacturer's financial viability now and into the future.
Trina Solar's modules are backed by 25-year and 30-year warranties. The product is designed to last more than 30 years.
Trina Solar was established in 1997, making it one of the world's most established solar module manufacturers. It has also been named the 100% Bankable Module Supplier Brand five years in a row by Bloomberg New Energy Finance which does an independent survey each year.
4.Shopping centres and supermarkets having rooftop solar
These businesses' electricity consumption peaks during the day when generation of electricity from solar is at its highest. Many start to shift to solar energy due to its efficiency and affordability as renewable alternatives into long-term planning.
Last year, Trina Solar modules were installed at 100 Australia ALDI stores in 100 business days. ALDI is a German discount supermarket chain, and it has become the first Australian supermarket to commit to 100% renewable electricity by the end of 2021. Aeon Shopping Centres in Vietnam and supermarket chain Big C have installed rooftop solar.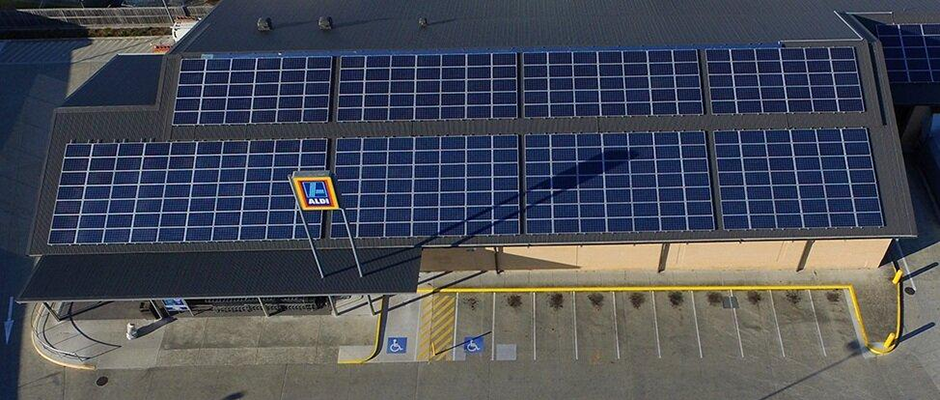 Trina Solar Duomax modules powering 100 ALDI stores in Australia
5.Industrial companies having solar on their rooftop
Solar energy is a good choice for factories and other industrial businesses, particularly those with large rooftops.
Trina Solar has been installing solar on the rooftops of some factories in Vietnam. A recent example of an industrial rooftop project Trina Solar did in Vietnam recently is a 6.5MW rooftop solar installation for Vietnam leather tannery company Dona Que Bang Industrial Company, which is in an industrial park in Dong Nai province.
Installing a solar system on rooftop is the most direct method to offset electricity costs and achieve carbon savings for the environment.
6.Airports adopting solar
The global aviation industry is under increasing pressure to reduce its CO2 emissions. Airports are ideal for solar energy because airports have large tracts of unused land and large rooftop space available thanks to their many terminals and hangars.
But the design and installation of solar systems at airports does pose certain challenges.
Civil aviation authority officials have to be convinced that the solar modules meet the highest international standards in terms of safety and reliability. The civil aviation regulator also wants to see that there is no light reflected from the solar modules that could cause glare for incoming aircraft.
Trina Solar provided 20,937 Trina Solar Honey series modules in 2018 for a 5.725MW rooftop and ground-mount system at Brisbane Airport – which, at the time, was the largest commercial solar installation in Australia. The modules have an anti-glare coating that meets the requirements of civil aviation regulators. It also has excellent low light performance on cloudy days and are certified to withstand challenging environmental conditions, such as high wind loads, hail stones, salt mist, sand and dust abrasion.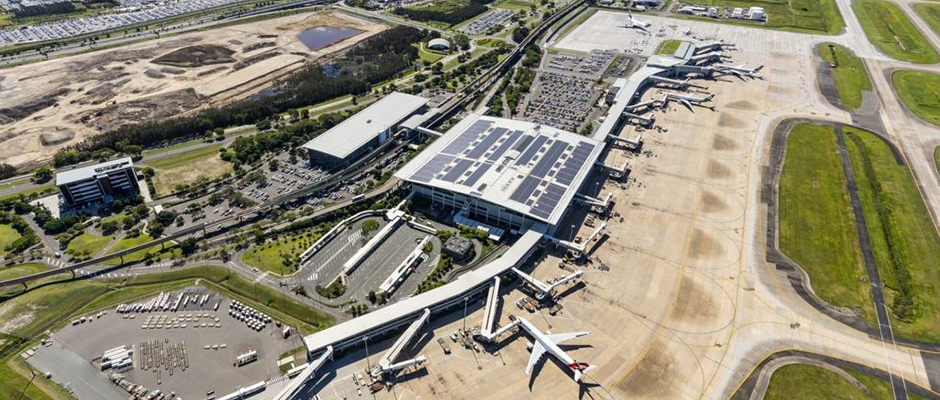 Brisbane Airport project powered by Trina Solar Honey modules
The solar installation has helped the airport to improve its environmental credentials. The CO2 savings of around 7,500 tonnes per annum is the equivalent of taking 1,500 cars off the road each year.
Vietnam, like Australia, also has many airports as well as new, larger airports under-development such as Ho Chi Minh's new Long Thanh International Airport. Solar energy would help Vietnam's airports to reduce their CO2 emissions and reduce their electricity costs.
7.Carparks installing solar
Open air carparks often need to install a fixed structure to protect the vehicles from the sun. Solar modules mounted high on a structure provides shelter to vehicles while generating electricity.
The mounting system and solar modules are designed to last for more than 25 years, so are actually more durable than most traditional carpark shelters.
Trina Solar has installed modules at many open carparks in markets around the world using modules such as double-glass DUOMAX M-Plus modules which is extremely reliable and suitable for most climate conditions.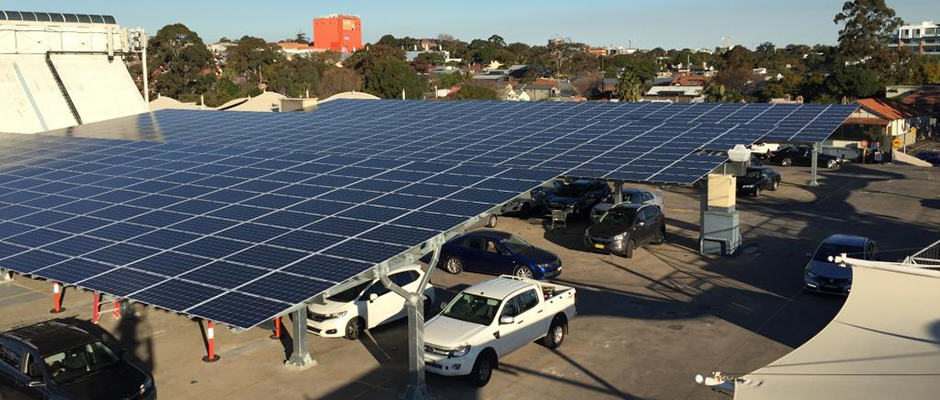 430 kW solar carport installed at MarketPlace Leichhardt, a shopping centre in Sydney's inner western suburbs, powered by Trina Solar DUOMAX M-Plus modules
8.Schools adopting solar
Trina Solar modules have been installed on the rooftop of many schools around the world. A notable example is a rooftop-mounted solar system at the famous Shardashram Vidya Mandir English Medium High School in Mumbai, India.
The school is famous in India because its alumni include Indian cricketing legends Sachin Tendulkar and Ajit Agarkar. The school, which was established 1969, has around 1,100 students.
The school's alumni donated the 10.3kWp Trina Solar system to coincide with the school's 50th anniversary.
The principal of the school, Suchita Shetty, told The Times of India newspaper: "When the alumni reached out saying they wanted to do something for the school, several options were considered. But we finally decided on solar modules as an eco-friendly measure and also to make students aware about the need to conserve energy."
Many schools around the world have been turning to solar energy to reduce their power bills and help the environment. Having solar on the rooftop of the school, including schools in Vietnam, would help the next generation to better understand the value and benefit of renewable energy.
9.Building-integrated photovoltaics
These are solar modules that are used as part of the building exterior and, therefore, are a key element of the building's overall design. Trina Solar recently supplied 128 Honey Black 325W modules for installation on the exterior of Melbourne's Paragon Tower, a 48-level residential building.
Building-integrated photovoltaics are dual-purpose. They provide a long-lasting exterior to the building and generate electricity that can either be used to power the building or be fed into the grid.
10.Aesthetically-pleasing solar modules
Some customers, particularly those that are choosing solar modules for the rooftop of their home, do take aesthetics into consideration when choosing solar modules. Trina Solar makes a wide choice of module designs; to help aesthetically-minded homeowners; including Vertex S series modules and the most popular all-black Honey Black M modules.
Trina Solar Honey Black M modules are ideal because of their sleek look. The modules appear more matte and have a more uniform black colour due to a dedicated cell-blackening treatment. The modules use thinner wires that are also not visible from ground level.
Smart Energy Solutions
delivered straight to your inbox