21/01/26
Business of Solar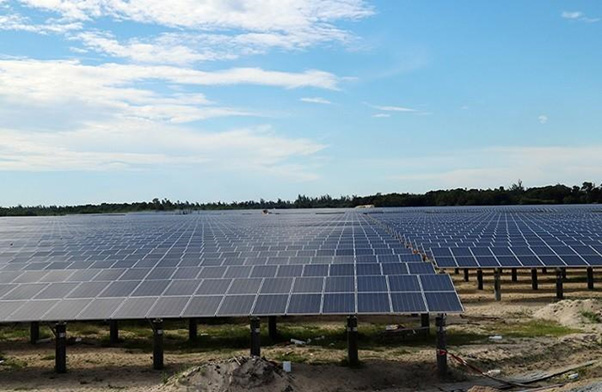 50MW Cam Hoa Solar Farm, Ha Tinh Province, Vietnam
Vietnam is one of the fastest-growing solar energy markets in the world. In just a couple of years, the country has achieved a tremendous rise in solar energy, setting new examples for the region.
According to Electricity Vietnam (EVN), Vietnam's solar generation in the first quarter of 2020 surged by 28 times as compared to the same period last year. At least 91 solar farms began operation in 2019 with a total capacity of 4,550 MW.
The energy demand in Vietnam is expected to increase by 10 percent by the end of 2020 and by 8 percent annually by 2030. And solar energy is a key to achieve its ambitious targets of producing 23 percent of its energy mix from renewables.
The introduction of policies, like the flexible FITs (feed-in-tariffs) system with a focus on solar projects with higher solar cell and module efficiency, has boosted the confidence of investors, making it an ideal renewable investment destination.
Moreover, rooftop solar installation prices have dropped by half in the last three years, which has sparked increasing demand. According to a research study, 85% of the rooftop solar systems installed in Vietnam were residential systems alone by the end of August.

Trina's Contribution to Support Vietnam's Ambition
As of October 2020, Trina Solar has delivered more than 56GW of solar modules worldwide to empower the world with clean solar energy. The company engages in PV products R&D, manufacture, and sales; PV projects development, EPC, O&M; smart micro-grid and multi-energy complementary systems development and sales, as well as energy cloud-platform operation. Trina Solar has expanded in more than 100 countries with 8 production bases in China, Thailand, and Vietnam. The company maintains some of the strongest financials in the industry and is ranked as one of the most bankable solar manufacturers.
Trina Solar made its entry into Vietnam in the year 2017 maintaining a very strong impression and presence in several high profile utility-scale projects. Since then, Trina Solar has become one of the top three solar players in the Vietnamese market.
The company has been supporting Vietnam's ambition to embrace solar energy by lessening its dependence on imported fossil fuels. For instance, the solar farm in the 111 MW Da Bac project located more than 100 km away from the coastal area. "The installation was quite challenging as the ground was shallow. During the heavy storm in 2019 when nearby projects were badly damaged, our project was comparatively less affected due to the adoption of the high-quality Trina modules combined with good design and installation" Trina Solar's Head of the Asia-Pacific region Todd Li recalls.
The 100 MW Gaia project based in Long An province and the 50 MW Cam Hoa solar plant as the first solar farm in northcentral Vietnam's Ha Tinh province are other good examples of Trina Solar's large projects.
Trina Solar's 42MW Phong Phu project has recently been announced as "Vietnam's Outstanding Renewable Energy Project 2020". The project has been evaluated by the Scientific Advisory Council, Education & Environment, and leading experts in renewable energy economics and the environment.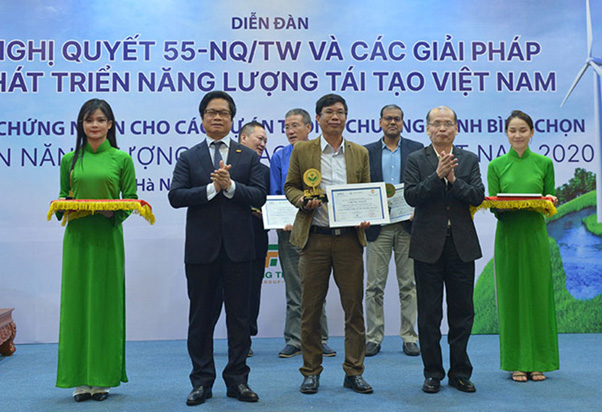 Trina Solar's 42MWp Phong Phu Project Won the Award of "Vietnam Outstanding Renewable Energy Project 2020"
The accomplishment was not only due to stable and efficient operation, but also making a good contribution to preserving and protecting the environment, creating jobs, and contributing positively to the local budget. Trina Solar's other projects are following the same footsteps.
Trina Solar has been following the commercial and industrial market trend. Despite its short span in Vietnam, the company currently has 10 authorized distributors and over 20 system integrators, partners, and developers in Vietnam. With the belief that the greater power output and efficiency of new solar modules will help Vietnam achieve a major shift to renewable energy, it has been making new records through its unmatched level of innovation and technological capabilities.
Modules: An Example of Higher Efficiency and Higher Output
Trina Solar led the 6.0 era with the launch of 600W+ Vertex series of solar modules, helping to maximize value for customers by increasing power generation capabilities and reducing the BOS (Balance of System) cost and Levelized Cost of Electricity (LCOE). The total sales of Trina Solar's Vertex series of modules are more than 2GW worldwide after it debuted in February. Because of the modules' proven field performance and the high bankability ratings that Trina Solar products have, the Vertex modules are well-received by Vietnamese customers. The next-generation Vertex modules incorporate many innovations while their main benefits include higher power output, lower BOS cost, great reliability and suitability for large-scale ground-mounted PV power plants, and large industrial and commercial rooftop projects. These features have been proven as highly beneficial for the Vietnamese market.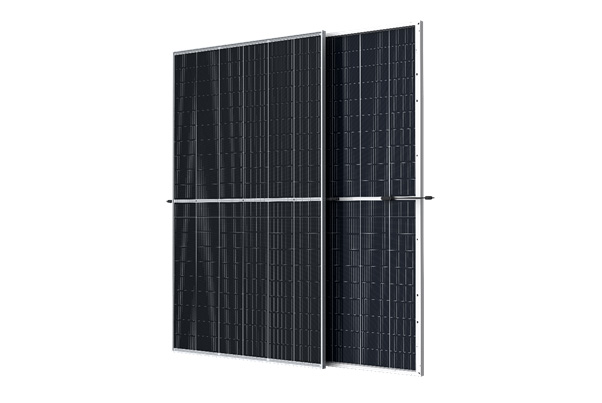 Vertex 600W Bifacial Double-Glass Module, DEG20C.20
In November, the company launched the Vertex S series modules with the output power of more than 405Wp, a power increase of up to 60Wp or 17% compared with previous product generations. It is another milestone in the long developmental history of the PV industry. This series of modules have ultra-high power and a small form factor, boost the rooftop photovoltaic system power yield up to 23%, and are tailored to the needs of rooftops and distributed energy systems. Trina Solar has enriched distributed energy market products with 210mm technology, which have been approved by large ground-based power plant customers.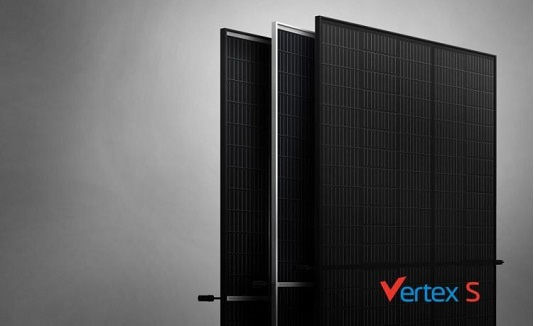 Trina Solar's 405W Vertex S Modules
The financial gains are enormous and easily make up for the additional upfront system cost. These Vertex S series of modules with higher efficiency, higher power, and higher reliability will bring a higher return of investment to the Vietnamese customers. Though different countries have different rooftop sizes, the modules have been meeting the demands of the local market. Good optimization is the key value, and since the weight of the module is only 21 kg and two workers can easily carry it for installation, it's a plus point in terms of practicality.
Trackers and TrinaPro: Long-Run Commitment to Boost Clean Energy
Besides modules alone, Trina Solar also offers integrated module and smart tracker solutions. The benefit of using trackers is that they substantially increase the amount of electricity the solar farm produces by having the panels track the movement of the sun throughout the day, conservatively by 10% or sometimes in excess of 20% where bifacial modules are utilized in conjunction with reflective ground conditions.
Trina Solar is one of the leading international companies that has recognized Vietnam's hunger for renewable power by providing high-quality PV products and smart energy solutions that, for competitive capex, unlock the highest and most bankable long term energy outcomes and deliver lowest Levelized Cost of Energy (LCOE).
With the PV industry entering the era of ultra-high power, the company launched TrinaPro, an integrated solar system comprising Trina Solar's smart single axis trackers truly optimized for high power modules in terms of performance, reliability and lower BOS and construction cost.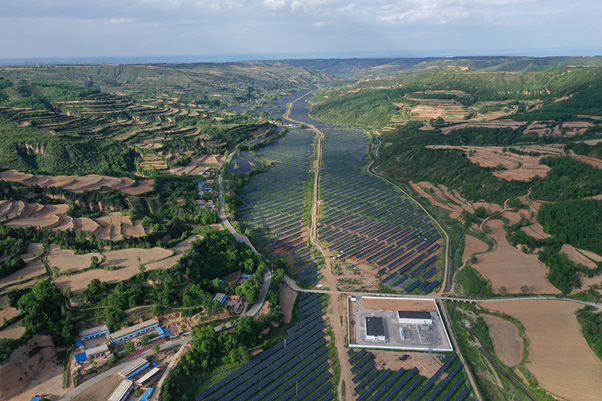 A Chinese "Top Runner" PV Power Project In Tongchuan, Shaanxi, Utilizing 30 MW TrinaPro Smart Solution
Due to these features, TrinaPro is ideal for utility-scale projects in Vietnam or commercial and industrial projects of 10MW or more. It delivers a lower balance of system (BOS) and construction costs, typically in excess of USD 1 cent per Watt peak and considerable increase in long term energy generation, and through single point procurement and accountability, ensures streamlined engineering and procurement. This enables project investors to reach COD and start to realize the superior financial returns possible within a more expedient timeframe and with lower risk, especially in today's highly disrupted supply chain landscape.
Trina Solar utilizes an innovative turn-key approach to utility-scale and commercial solar PV installations by bundling together three core components: Modules, trackers, and high-quality central or string inverters. It has set higher targets for Vietnam for 2021 with competitive pricing and the highest standard.
Vietnam is leading Southeast Asia's renewable energy market. With technological progress and growing environmental concerns leading to renewable energies being more attractive, Trina Solar continues to contribute to Vietnam's clean energy development, and in creating jobs and income for the local population.
Source: SolarQuarter
Smart Energy Solutions
delivered straight to your inbox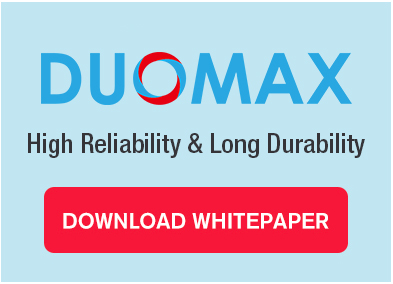 Visit us at the following events in 2023