19/07/03
Business of Solar,Panel Talk and Technology
Excerpt from PVmen.com article
The focus of the PV industry is shifting from scale, speed and price to quality, technology and returns.
With the current trend, it has become imperative for the companies to invest more into technological R&D and innovation. As one of the leading photovoltaic companies, Trina Solar continues to take the technology lead. It is the leader – from mainstream technologies such as MBB to high efficiency cell technologies like IBC solar cells.
High-efficient technologies, vigorously promoted by the Chinese Top Runner Program, are ushering in an era of ultra-rapid development. Among various module technologies, MBB technology not only reduces the consumption of silver paste, which ultimately brings down the cost, but also increases light illumination area of cells to boost performance. Moreover, cells with denser bar lines have stronger subfissure resistance. All these advantages put MBB technology at the forefront in the photovoltaic industry.

The industry sees that MBB technology can be mainstream, highly efficient technology, but one of the challenges faced in getting to that level, is mastering the mass production of modules that incorporate MBB technology. This explains why production volumes for MBB cells were low to begin with. But with the improvements to production technologies, an increasing number of companies have started to combine half-cut technology with MBB since the beginning of 2019. This kind of combination improves short-circuit currents of modules and fill factors, further increasing the power of modules by 10W. It is expected that production capacity will witness remarkable increases this year.

This trend was evident at the manufacturer exhibits at this year's PV EXPO held in Japan in February. Following Trina Solar, many mainstream photovoltaic companies are adopting the model of integrating half-cut and MBB technologies.

As power supply is halved in half-cut cells, the design of busbar and welding strip needs further optimization. Most half-cut MBB solar cells are 9BB cells. According to Zhang Shu, senior R&D manager in charge of Trina Solar high-efficiency modules: "The number of bar lines in MBB depends on the balance between electrics and optics. More bar lines reduce series resistance and also leads to an increase in area of the shade."
"The half-cut cell reduces series resistance, therefore, after integrating MBB and half-cut cell technology, the number of bar lines can be reduced."
"Through simulation and experimental research, we find that 9BB half-cut modules have the highest increment in efficiency compared to others."
As the pioneer of MBB technology, Trina Solar has always been taking the lead in R&D and mass production of MBB in the industry. As early as 2015, Trina Solar started its research on MBB as a reserve technology. It joined hands with other players to develop the first-generation round welding strip and first-generation MBB cell series welding equipment in China. Moreover, Trina Solar was also among the first to solve technical difficulties in round welding strip welding, including deviation prevention technology for round welding strip, 144-point independent elastic compaction technology, integrated welding technology combining series welding and convergence.
Besides the equipment, technological difficulties in processing was also holding back MBB from mass production. According to Feng Zhiqiang, vice-president and technical director, Trina Solar, and director of the State Key Laboratory of PV Science and Technology of Trina Solar: "The major difficulties in MBB technology are I-V sorting of cells and series welding of module, including welding strip aligning, the quality of welding, welding temperature field control and welding tension control, among others. Besides, there is a need to strike a balance between electrical resistivity and the area of shade."

After two and a half years of devotion, Trina Solar began the trial production of MBB full cell in August 2017 and finally put it into mass production in November of that year.
On March 21 this year, Trina Solar released four new product series which combined MBB with half-cut technology - as well as integrating PERC, bifacial and other mainstream technologies in the industry. Trina Solar has successfully achieved mass production of these four new product series.

"Trina Solar always sticks to the principle of 'half-step ahead from others'. Meanwhile, it also closely tracks the demand of the market", says Yin Rongfang, executive vice-president, Trina Solar. "One can infer from the four newly launched product series that Trina Solar attaches greater importance to integrating mature mainstream technologies already existing in the market."

The State Key Laboratory of PV Science and Technology, co-located at Trina Solar, is among the first batch of state key laboratories accredited by Ministry of Science and Technology of the People's Republic of China (MOST). It focuses on developing leading technologies including highly-efficient n-type and IBC technology.

In May 2019, Trina Solar set a new world record of 24.58% for a high-efficiency n-type mono-crystalline silicon (c-Si) i-TOPCon solar cell. The result has been independently confirmed by the ISFH CalTeC in Germany.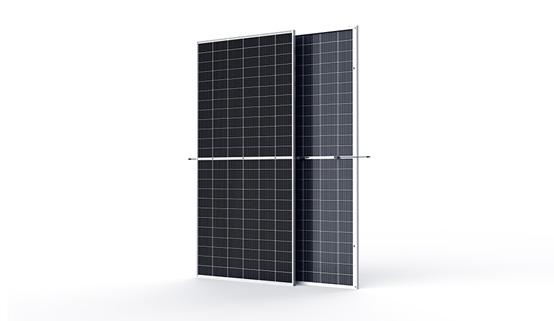 (Photo: Trina Solar's new high-performance TSM-NEG15MC.20(II) module incorporates i-TOPCon cell technology)
This is the 19th world record set by Trina Solar in the field of cell efficiency and module output power. This is also a testament to Trina Solar's investment and achievement in technological R&D. Moreover, five of Trina Solar's projects are on the project list of National Key Research and Development Project of China released by High Tech Research and Development Center, MOST in March 2019, including "Key Technology Research and Production Line Demonstration of Industrialization of High-efficiency N-type Bifacial Solar Cells of Homogeneous Monocrystalline Silicon", "Key Technology for Industrialization of Decay-controllable N-type Solar Cells of Monocrystalline Silicon", "Research on Design, Preparation and Mechanism of Perovskite/Crystalline Silicon Stacked Bifacial Solar Cells", "Key Technology for Industrialization of P-type Solar Cells of Multicrystalline Silicon" and "Key Technologies and Demonstration of Multi-source Complementary Coupling Energy Supply System with Thermal and Electrical Energy Storage of Fully Renewable Energies for Featured Towns".
"Trina Solar laboratory's R&D on cutting-edge technologies aims to explore technologies of next five to ten years. Our researchers started tapping into half-cut, MBB and big wafer among other existing technologies for several years before these technologies entered the market. In future, the competition in the photovoltaic industry will focus more on technological accumulation," says Yin Rongfang.

Smart Energy Solutions
delivered straight to your inbox