Trina Solar's Yifeng Chen honored with IEEE Stuart R. Wenham Young Professional Award
2023.05.02
The 50th The Institute of Electrical and Electronics Engineers Photovoltaic Specialists Conference (IEEE PVSC) recently announced that Dr. Yifeng Chen, technical leader and associate vice president of technology in Trina Solar, will receive the 2023 IEEE Stuart R. Wenham Young Professional Award for his outstanding achievements in the science and technology of photovoltaic energy conversion.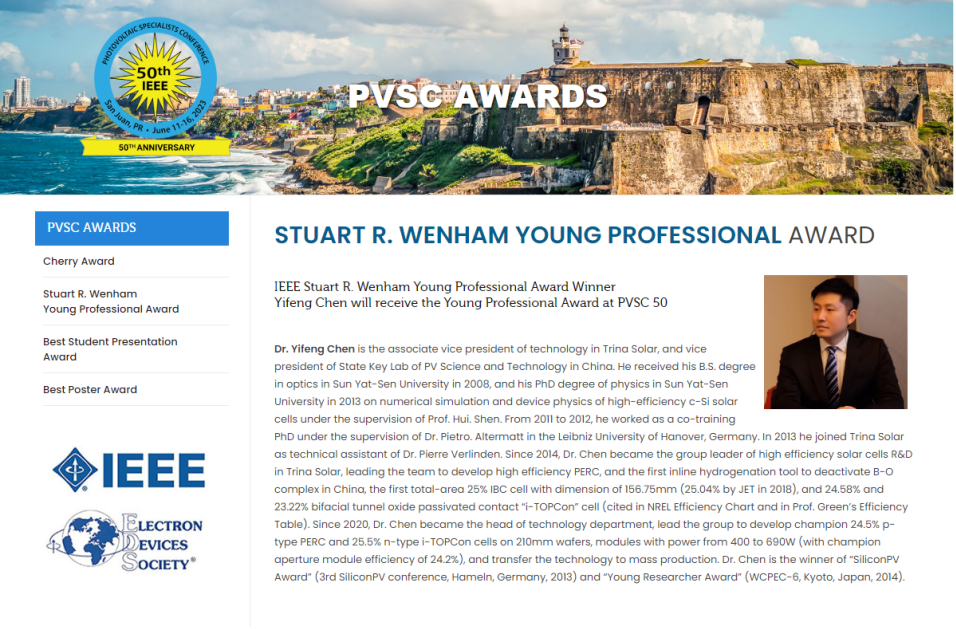 The award announcement on the IEEE website
Headquartered in New York, USA, the Institute is one of the world's largest professional technical organizations and was founded in 1963. In 2014, the Institute established the Young Professional Award, which was later renamed the IEEE Stuart R. Wenham Young Professional Award in honor of Prof. Stuart Wenham. The award is given annually to an individual who has made significant contributions to the science and technology of photovoltaic energy conversion, including work on PV materials, devices, modules, and/or systems. As a technical leader in Trina Solar, Dr. Chen heads the R&D team, promoting technological innovation and the transfer to mass production. Trina Solar has set 25 world records for solar cell conversion efficiency and module power output to date. The 210mm n-type i-TOPCon cell efficiency has reached 25.3% in mass production, which benefits the customers and PV industry.
The 50th IEEE PVSC will be held on June 11, 2023, in San Juan, Puerto Rico, USA. Dr. Chen will receive the award and give an extended oral presentation on the high performance of 210mm n-type i-TOPCon cells and modules. Dr. Chen said: "This award is also a recognition of Trina Solar, and particularly, every researcher on our R&D team. In the future, we will further accelerate the industrialization of high-efficiency technologies and promote the application of high-efficiency and reliable Vertex modules."
Dr. Chen was also the winner of the "SiliconPV Award" at the 2013 SiliconPV conference in Hamelin, Germany, and the "Young Researcher Award" at the 2014 World Conference on Photovoltaic Energy Conversion (WCPEC) in Kyoto, Japan.
This award fully recognizes the achievements of Dr. Chen and his team in high-efficiency solar cell and module R&D and underscores Trina Solar's position as a global leader in the field of PV technology. Trina Solar will enhance its R&D in advanced high-efficiency 210/210R products with n-type i-TOPCon technology to develop products with better performance and higher value to global customers.