22/03/14
Utility,Business of Solar
Utility-scale solar remains one of the main drivers for building a clean, renewable energy economy. Quarter after quarter of record-breaking capacity additions and continuously decreasing price points will contribute to maintaining this trend.
Obtaining the lowest levelized cost of energy (LCOE) for utility-scale PV installations will require EPCs and developers to ensure they have every tool at their disposal. The route to LCOE might seem like it requires adding more complications and chances for risk, but that's not always the case.
Trina Solar can help to make it easier for EPCs and developers by mitigating risks and boosting system value. One way the company accomplishes this is through its innovative bundling of major PV components, such as the ultra-high power 210 Vertex modules and the innovative TrinaTracker solar trackers.
Trina Solar's Innovative Bundling of Major PV Components
Trina Solar is the only solar module manufacturer in the industry that provides a truly compatible module and tracker solution. This combined package provides a bevy of customer benefits, such as using powerful PV modules, streamlining procurement, improving system design, mitigating installation and performance risks, and more.
In order to deliver these utility solar customer benefits, Trina Solar deploys an innovative bundling of modules, inverters and trackers. By bundling the major PV components, the company reduces the number of vendors and distributors needed during procurement, and it also ensures widespread component interoperability. When taken together, this helps boost utility project energy yields, which reduces its LCOE and generates a faster internal rate of return (IRR).
TrinaTracker's Important Role in Trina Solar's Utility PV Solution
As one of the major components in Trina Solar's smart solar solution, TrinaTracker is crucial to delivering a lower LCOE.
At the end of the day, though, the question remains: Does TrinaTracker generate sufficient energy yields to overcome the cost of the additional steel? The answer is, unequivocally, yes. Available in both 1-in-portrait (1P) or 2-in-portrait (2P), TrinaTracker works as a significant efficiency booster in this new era of grid parity, with 3 to 8% higher power generation using its smart tracking algorithm, SuperTrack.
What makes TrinaTracker unique among PV trackers? TrinaTracker's state-of-the-art systems are designed to produce maximum yield, even when installed in the most complex terrain and under extreme weather conditions. TrinaTracker Agile 1P and Vanguard 2P were subjected to wind tunnel tests to validate their stability under extreme wind. Their components must achieve very high-quality standards, making their failure rate extremely low.
TrinaTracker's patented spherical bearing mechanism is not found in other trackers. It provides a three-axis rotation and 30% adjustable tilt angle for more flexibility to better track the sun along its daily and annual routes. Plus, the unique design operates more efficiently than the cylindrical bearings on traditional trackers, which greatly reduces installation time.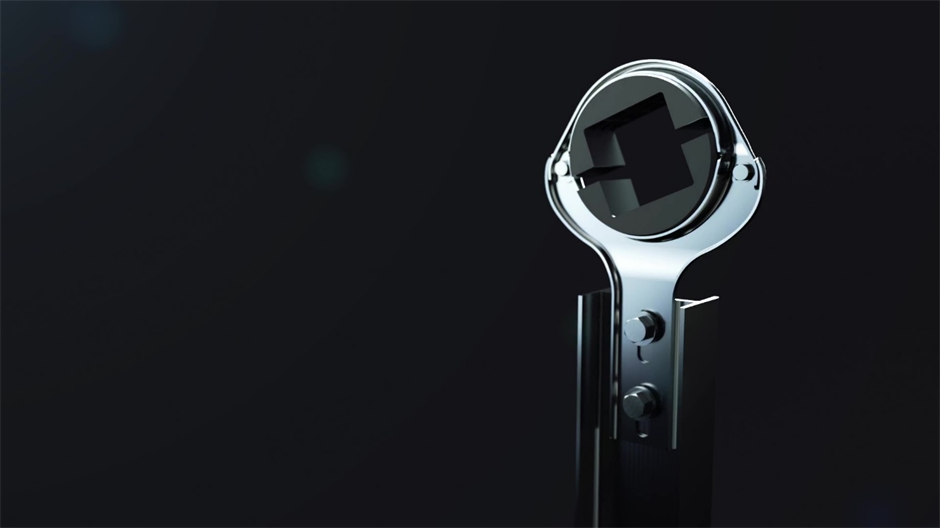 TrinaTracker's patented spherical bearing mechanism
This lets TrinaTracker provide:
Optimized tracking for improved solar harvest
Minimized energy losses caused by shading with a smart backtracking algorithm (SBA)
Shortened assembly time for civil work, meaning lower cut-and-fill costs and associated risks
Reduction and absorption of the twisting created while driving in the posts
Combined, these features help increase power generation while decreasing overall costs, which allows EPCs and developers to achieve a lower LCOE.
Using a Preventive O&M Strategy to Improve Reliability and Reduce Costs
TrinaTracker relies on a tracker development solution that increases reliability to further reduce operations and maintenance (O&M) costs.
First, TrinaTracker has high safety and stability, with many applications for enhanced reliability in a variety of terrains and climates. The sophisticated tracker is resilient to extreme weather conditions, from hurricanes to snowstorms. This means less downtime and fewer chances for mechanical damage and risks.
In addition, TrinaTracker's preventive O&M strategies limit the number and cost of O&M activities in the plant, increasing the installation availability and reducing LCOE. The TrinaTracker smart control and monitoring system lets PV power plant owners securely control, track and check the performance of their PV systems. This allows for quicker corrective and unplanned maintenance to keep the system performing optimally.
Want to learn more about how TrinaTracker plays a key role in delivering low LCOE? Reach out to the solar experts at Trina Solar today!
Smart Energy Solutions
delivered straight to your inbox