On 2 September, Trina Solar, a leading global PV and smart energy total solution provider, together with Fraunhofer ISE, the largest solar research institute in Europe, discussed the theme of The Importance of Product Reliability and System Value of a 600W+ Module in Achieving the Lowest LCOE. Professionals from more than 73 countries and regions participated in this conference online.
Trina Solar made an in-depth analysis on the gradually complete 600W+ industrial chain, advantages of Trina Solar's 600W+ Vertex modules in lowering LCOE in different regions across the globe, and Vertex modules' reliability. Fraunhofer ISE also presented a series of LCOE studies on Trina Solar's ultra-high power modules and peer products, proving the former's significant advantages.
600W+ Ecology Grows Mature with Unstoppable Industrialization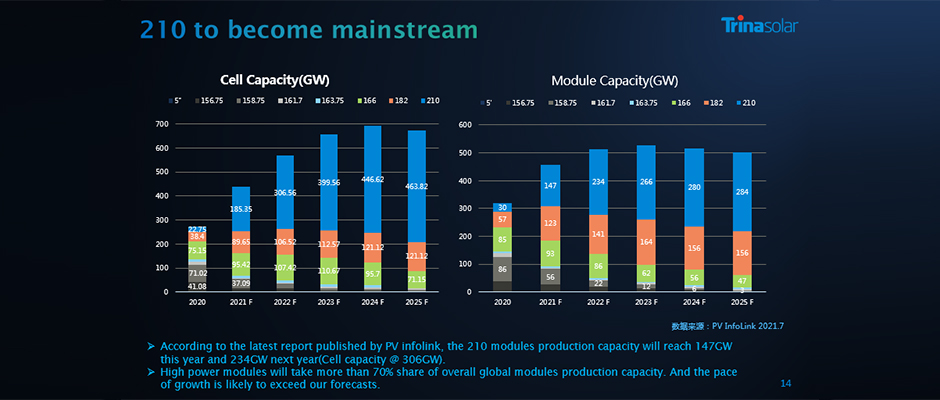 Dr. Franck Zhang, Head of Product Strategy and Marketing at Trina Solar, started the conference with a presentation regarding The 600W+ Solar Module Market, Ecology System Construction and Industrialization. Zhang pointed out that the ecosystem of 210 modules has already been formed, and 210 modules are fully compatible with mainstream inverters and trackers. The inverters solutions apply to all the scenarios of residential, commercial and industrial, and utility-scale power projects that are installed with 210 modules. In addition, compared with industry level, Trina Solar's Vertex modules have an increase of 35W-90W in power and can reduce BOS costs by $0.5-1.6 cents per watt, contributing to more value for customers.
Full Verification of the Reliability of 670W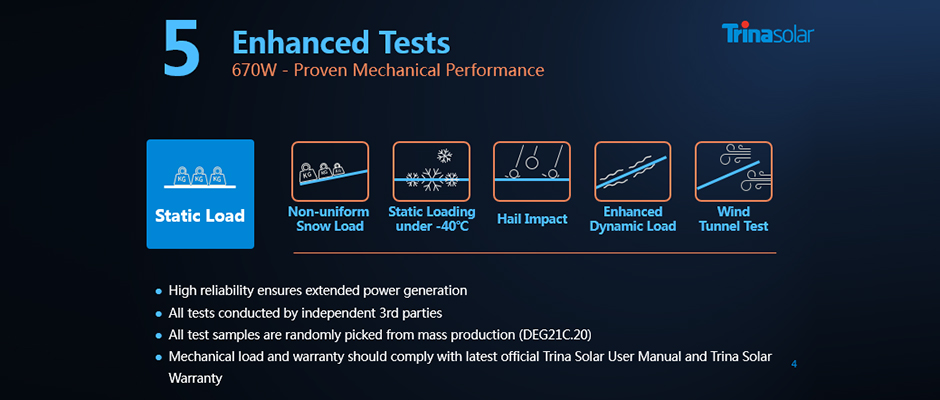 In this conference, Gao Lei, Global Module Product Senior Manager at Trina Solar, made an in-depth analysis on the reliability of 670W Vertex modules. Trina Solar's 670W Vertex modules have passed six mechanical loading tests with excellent mechanical load capability, fully verifying the reliability of the 670W modules. In the rigorous tests that simulate extreme weather conditions such as extreme wind, snowstorm, extreme cold and hail, the test result of 670W Vertex modules is far above IEC standard.
The installation of the modules also has a significant impact on the stability of the PV system, thus, it is recommended to use mixed fix installation under extreme weather conditions to ensure the PV system's safety, reliability and yield gain on power generation at full life cycle.
Trina Solar's Ultra-High Power Modules Have Higher System Value with LCOE Saved by 7.4%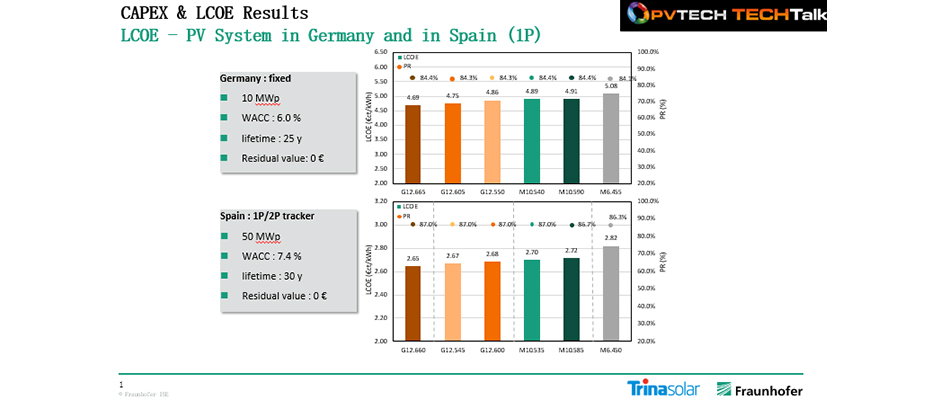 Fraunhofer ISE, located in Freiburg, Germany, was established in 1981 and is currently the largest solar energy research institute in Europe. After the 600W+ series products were launched, Fraunhofer ISE conducted comparison studies on the LCOE of Trina Solar's 550W, 600W and 670W ultra-high power modules with M10 and M6 modules.
In this conference, Jefferson Bor, Project Manager, Modules and Power Plants Analysis of Fraunhofer ISE, published the study results. The results reveal that the new generation modules (182, 210) have shown greater advantage in system value compared to the last 166 generation.
Besides, the innovative design of low voltage and high string power enables 210 modules to have greater advantage in CAPEX and LCOE compared with 182 series on both fixed tilt and trackers. Compared with M10 585W modules, Trina Solar's G12 Vertex 600W and 670W modules have excellent performance with savings on CAPEX at 1.5-2 €cWp and 3 - 4.5% on LCOE; compared with M6 455W, the savings on LCOE is 7.4%. The 210 modules represented by Trina Solar's Vertex 670W, 600W and 550W provide more value to customers.
With the advancement of PV power parity, LCOE and CAPEX have become the focus by investors. With high reliability, high power and high yield gain, Trina Solar's Vertex ultra-high power modules satisfy the global PV market demand and will also become the new momentum for PV industry development.
Please click the link below to download the three sets of slides presented in the conference:
● The 600W+ solar module market, ecology system construction and industrialization
● Enhanced Reliability: 670W Vertex Module
● Fraunhofer ISE: Analyzing impact of Modules with different Wafer sizes on the LCOE https://pages.trinasolar.com/GLB-PV-tech.html
To get the full Fraunhofer ISE LCOE report, please email us at: VertexValue@Trinasolar.com
Smart Energy Solutions
delivered straight to your inbox