22/03/18
Reliability,Customer Value,600W+ Ecosystem,Innovation and Advance,Panel Talk and Technology
Trina Solar, the pioneer of 210mm large-format PV modules, has led the industry into the 600W+ era and unleashed the full value of 210mm technology with our newest ultra-high power modules, Vertex 600W+ and Vertex 670W.
The 210 Vertex modules continue to grow in popularity around the globe because they provide undeniably high customer value. "As our best quality product with enhanced warranty conditions, many of our customers have been very accepting of our 210mm modules," said Dr Franck Zhang Yingbin, Head of Product Strategy & Marketing at Trina Solar.
To date, cumulative global shipments of the 210 Vertex modules have exceeded 16 GW, marking 210mm modules as the confirmed, clear-cut direction forward for the PV industry.
In the Asia Pacific region, Trina Solar's 210mm modules have been widely accepted by customers, accounting for around 80% of total shipments in Q3 2021. The majority of these orders were for the newly launched ultra-high power Vertex 600W+ series modules.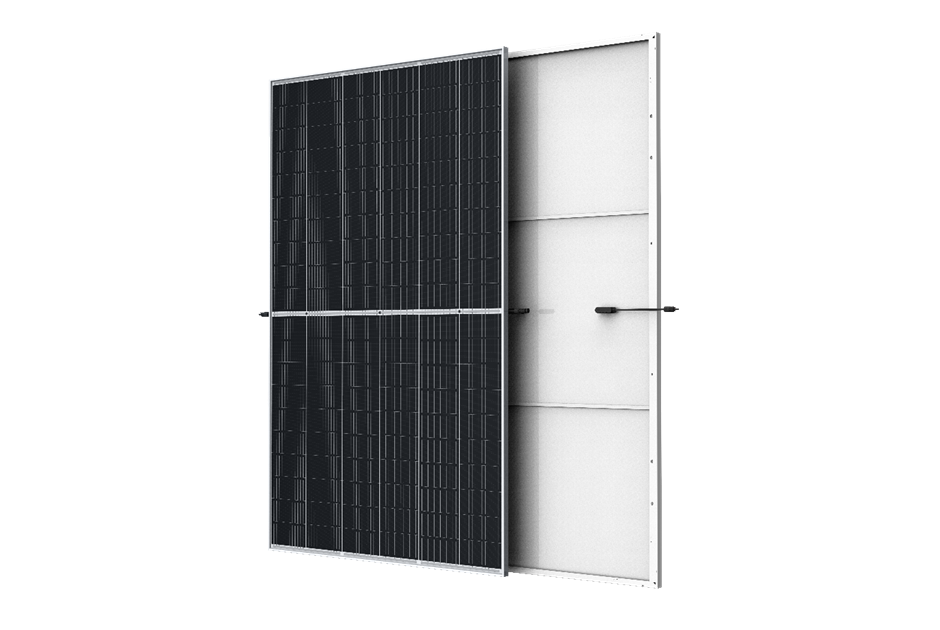 210 Vertex DE20 (600W backsheet version)
The Vertex 600W+ modules are particularly popular with end-users because of two reasons, explained Todd Li, President of Trina Solar Asia Pacific. "First, the new ultra-high power module has a lower Levelized Cost of Electricity (LCOE). Secondly, they can produce more electricity within the same area of landscape. Because the ultra-high power module creates more value for customers, it has eventually brought more success to us."
Let's take a closer look at why customers in the Asia Pacific region and around the globe have adopted the 210 Vertex modules for their projects.
Significant Cost Reductions in Large-Scale Projects: Ultra-High Power 600W+ Modules are Ideal for Utility-Scale Applications
Increasing the power of a single string is the key factor in reducing the balance of system (BOS) cost of the system, said Dr Zhang. The 210 Vertex modules adopt a low voltage, high string power design which significantly increases string power compared to 166mm and 182mm modules on the market.
The BOS and LCOE advantages become even more prominent in large-scale projects with the 210mm modules of higher power, such as the Vertex 550W, 600W and 670W modules.
The Vertex 670W module is Trina Solar's latest product and marks a milestone in the PV 6.0 era. It can increase single string power by 34% compared to other 500W+ modules in the industry.
"For the 670W module, the savings mainly come from the number of modules, amount of steel used for the tracker, piles, DC cables, combiner box, PEX, MC connectors, clamp and a corresponding reduction in installation labor costs. The approximate saving is more than US$0.01 per watt," explained Dr Zhang.
"670W also enlarges the room for manufacturing cost reduction. So the purpose of promoting 670W modules is to accelerate the progress of peak carbon dioxide emissions and carbon neutrality."
Because of these reasons, the Vertex 670W module has been growing in popularity amongst utility-scale customers. Dr Zhang believes that this growth will continue in the upcoming years: "Of course, there are some customers who are still on the sidelines and they need time to appreciate the benefits of these new sizes, but I believe it won't take long."
Maximum Power Generation in Limited Space: Ultra-High Power Vertex in Distributed Applications
Ultra-high power modules with higher efficiency have become more popular in the distributed market as customers recognize their ability to minimize costs by maximizing power generated on the limited rooftop space.
By using 210mm modules, fewer modules are needed to achieve the total amount of energy output required from the project. This is especially so for 210mm modules of higher power (550W, 600W), which can unlock significant advantages in BOS and LCOE especially on large-scale commercial and industrial (C&I) rooftops.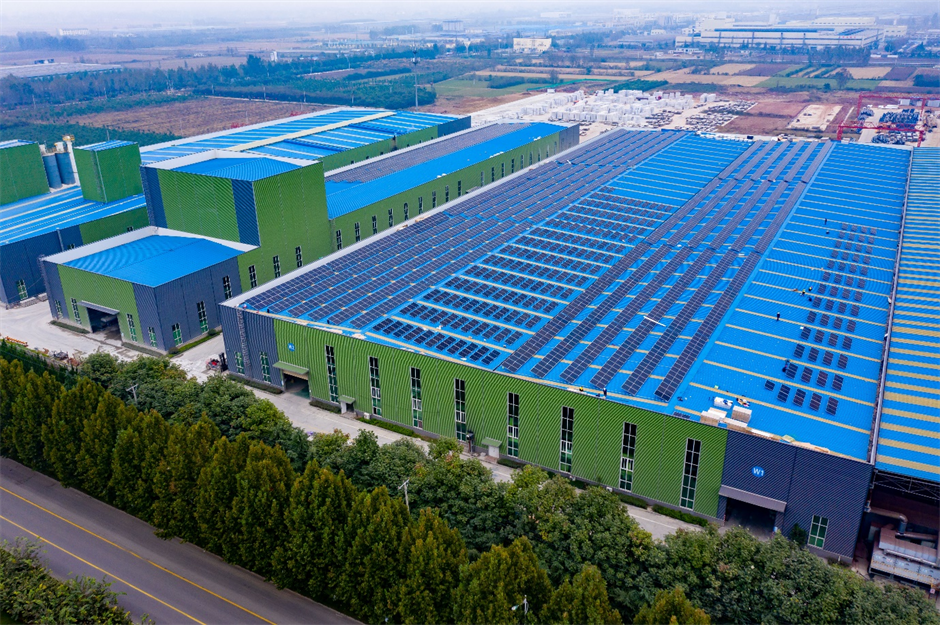 Vertex 600W modules powering a 2 MW C&I rooftop project in China
Customer behaviour also plays a big role in boosting the popularity of 210mm modules in the distributed market. Based on Trina Solar's sales performance in 2021, distributed PV customers in the Asia Pacific region are less price-sensitive and more willing to adopt new technologies to reduce costs compared to utility customers.
Because of this, Trina Solar's Asia Pacific region has found high value and success in the distributed PV market. "Currently, around 70% of Trina Solar's revenue from the Asia Pacific region comes from the distributed market," said Todd, "I believe the large-format ultra-high power Vertex modules will continue to grow in popularity in 2022 and beyond."
"It will be very good to utilize our ultra-high power modules in the distributed PV market, especially for fast-growing countries like India, Thailand, and Vietnam, which need more energy supply for their industrialization."
Backed by a Solid Solar Module Brand with a Proven Track Record
Trina Solar is very confident in our products. Industry professionals recognize and trust our products because of their high reliability and solid performance – they undergo multiple levels of evaluations to ensure that each product has the highest quality:
Internal evaluations by Trina Solar's R&D team according to IEC standards before product launch
Third-party comprehensive evaluations and certifications by testing organizations such as TÜV Rheinland, IEC and UL
Enhanced tests three times (or even higher) than normal IEC standards by authoritative organizations recognized by the financial markets, such as PV Evolution Labs (PVEL) and Renewable Energy Test Centre (RETC)

In addition, we also incorporate leading technologies to improve the quality of each product. For instance, the 210mm Vertex modules have been injected with the following technologies, achieving an improvement of at least 27% in mechanical load with just a 20% area increase:
Non-destructive cutting to reduce hidden cracks and improve the mechanical load of the solar cells
● Strengthened frameworks to improve mechanical strength on the panel
● Increased thickness of side C from 1.4mm to 1.65mm
● Improved solutions for screws and shims for connection points
The high quality and performance of our products have also translated into high customer confidence. In 2021, Trina Solar was awarded 100% bankable by BloombergNEF (BNEF) for the sixth time, indicating the strong credibility of our products and company in terms of quality, performance and financial health.
In short, this ranking is a testament to our customers' confidence in Trina Solar. "The 100% classification means every person Bloomberg NEF interviewed gave a 100% positive reply to questions on our PV products, brand, customer service, and financial status," said Dr Zhang, "We are proud to say that it's really a great achievement to win 100% bankability six times."
High Customer Value with Constant Innovation
Trina Solar has always focused on delivering optimal customer value. In terms of modules, Trina Solar implements innovative technologies to keep BOS and LCOE costs as low as possible. Such efforts help to counteract rising costs in the supply chain, which cannot be controlled by PV module manufacturers like Trina Solar.
In recent years, we have already implemented these innovative technologies to boost customer value through our products:
● 210mm cells
● multi-busbar for increased light absorption
● high density encapsulation to reduce the space between each cell
● non-destructive cutting to create ultra-smooth edges
In 2022 and beyond, Trina Solar will continue to innovate to maximize customer value and bring more value to the market. This includes the optimization of products like our 210 Vertex modules, the release of N-type modules, and investment in up-and-coming technologies, such as TOPCON solar cells and heterojunction technology (HJT).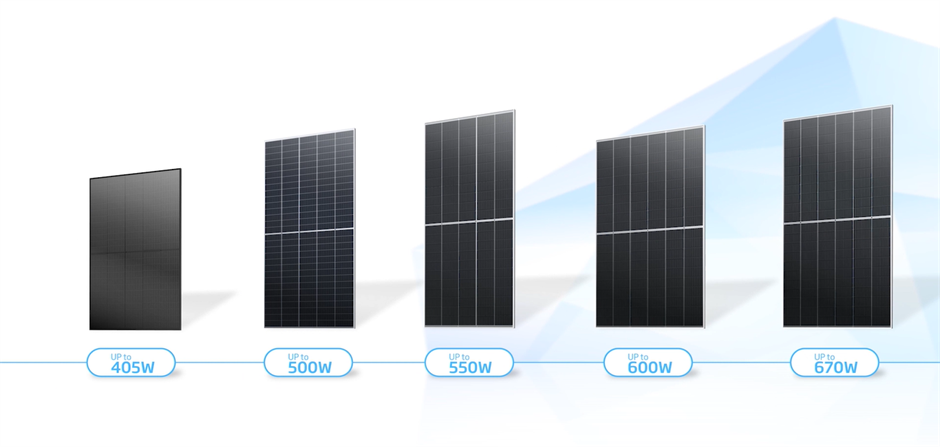 210 Vertex series modules
In addition to our product line-up, Trina Solar also works closely with our partners to deliver more support for the innovative 210 solutions both upstream and downstream.
We recently released tools to help our customers find inverters and trackers compatible with our 210mm-based Vertex modules. These include white papers for inverter matching and tracker matching, which list more than 200 inverters and 30 trackers, all ready to support the 210mm modules. They are paired with an online matching tool where customers can easily find and select inverts and trackers that are compatible with our 210mm Vertex modules.
Trina Solar also released the 600W+ Vertex Module Integrated Delivery Solution, which helps to significantly increase loading power and maritime freight efficiency remarkably, cut maritime freight costs, and cut down CO2 from ocean transport by up to 8%.
The integrated delivery solution is a unique innovation for our customers because it provides a solution that accounts for all aspects of the shipping process so that installers can better utilize each module and optimize system value.
Dr Zhang said: "Most conventional PV manufacturers only care about the sales of their PV modules. Trina Solar is involved, however, in their packaging, uploading onto containers, shipping via ocean or land, their inventory and transition, their unpacking and transportation to the site, and their final installation on supports or trackers, etc."
"The entire process is formalized with a white paper and corresponding video so that our customers can follow and proceed with the highest efficiency and accuracy to save costs, reduce damage, and increase profits."
210mm, The Way Forward for the PV Industry
From the success of the 210mm-based Vertex 600W+ modules in the Asia Pacific region and around the world, it is clear that 600W+ is unstoppable in the future.
After more than two years, 210mm technology has become the benchmark for large-format products. The success of the 210mm-based Vertex 600W+ modules also demonstrates that 600W+ will be unstoppable in the future, be it in the Asia Pacific or around the globe.
Standing at the forefront of the PV industry, Trina Solar will continue to work closely with all stakeholders to expand upon 210mm technology, so as to accelerate the global application of smart energy and create a new world of carbon-free energy.
Want to learn more about how the 600W+ modules can help you achieve optimal system value? Get in touch with Trina Solar today.
Smart Energy Solutions
delivered straight to your inbox