Trina Solar and GP JOULE celebrate completion of 170MW Klettwitz Solar Park in Brandenburg, Germany
2022.12.06
Trina Solar Co., Ltd. ("Trina Solar" or the "company"), a leading global PV and smart energy total solution provider, recently worked with GP JOULE on completing the second stage of a large utility-scale solar park in Klettwitz, Germany. The solar park is powered entirely by bifacial Trina Solar Vertex PV modules, its two plants featuring a total installed capacity of 170 megawatts. As part of the project, Trina Solar delivered 163,000 Vertex panels, or 80MW, for the second phase. This follows phase 1 of the project, a 90MW array, which was completed in May 2022.
Trina Solar is leading the way in solar energy, providing solutions that help move the world toward net-zero energy consumption. In Europe, the company has partnered with developer GP JOULE, supporting their efforts to convert brownsites for eco-friendly usage. A brownsite is a piece of land on which the previous use potentially contaminated the area. Sites that once held landfills, toxic waste dumps, or open-pit mining are difficult to redevelop because the soil is contaminated, posing a risk to people and wildlife.
The Klettwitz mine in the village of Schipkau in Brandenburg is one of Europe's biggest brownsites, and GP JOULE was tasked with converting it into a solar park to help power the nearby community in a more sustainable way. This particular mine was large, and it operated from 1914 until 2018. The site has an elevated level of contamination, and it is located close to Berlin, the highly populated capital of Germany.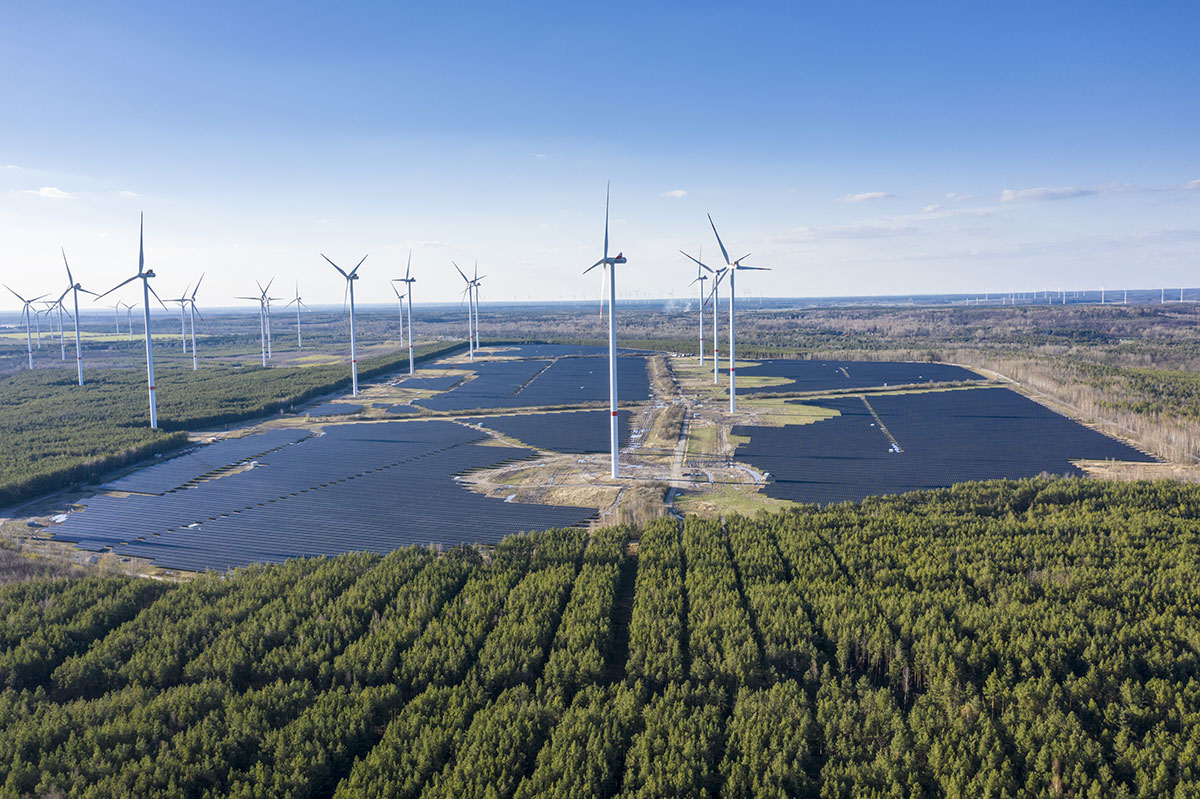 Solar on conversion sites is a great way to repurpose them. With Trina Solar's innovative Vertex modules, the site offers a more positive contribution to the environment. Following the completion of phase 2, the site is expected to generate 173,000 megawatt hours of solar power annually, saving over 120,000 tons of CO2.
"High-performance projects like this one here in Klettwitz pave the way for energy transition and climate protection. We build on reliable cooperation with strong partners like Trina Solar," says Meik G. Gessner, Managing Director of Plant Engineering at GP JOULE EPC.
Trina Solar's Vertex bifacial modules can absorb solar power from both sides, which increases energy production by up to 30%. They are highly reliable and work well in lower light conditions, making them a good fit for locations with a higher frequency of overcast days. Their sturdy dual-glass structure makes them the panel of choice for difficult environmental conditions.
GP JOULE has used Trina Solar modules on previous projects and has worked on other brownsite conversions across Europe. By using these modules, GP JOULE has successfully rehabilitated a formerly contaminated site into a power generator that will significantly reduce carbon emissions.
This project is part of a broader commitment to a greener future. Gonzalo de la Viña, President EMEA at Trina Solar, applauds this great development for the region: "When it comes to reallocating and rehabilitating former brownsites, solar plants on conversion sites are an absolute must. Our Vertex modules provide many benefits to any country, city, or municipality looking to convert a contaminated brownsite. Through innovation, efficiency, and a commitment to excellence, Trina Solar has reached new levels of enabling environmental rehabilitation."