Trina Solar chosen as exclusive supplier of high-reliability modules for project in Vietnam
2019.05.28
A ground-based 49 MWPV project in Vietnam using modules exclusively supplied by Trina Solar has gone online.
The project is in the commune of Ham Kiem in Binh Thuan province. With a tropical marine climate, the application environment makes stringent demands on PV modules, which must be tolerant in high temperatures and humidity, and conditions of high corrosion.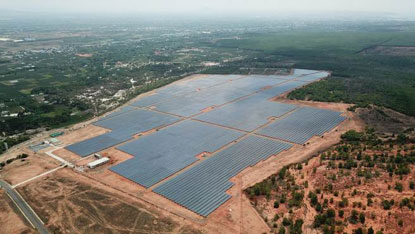 Wu Lingjie, head of sales for Trina Solar in Fujian province, Greater China, said: "It is true that the local climate makes for high module reliability requirements, but we have extremely high confidence in the Trina Solar polycrystalline modules that we have supplied to this project in Vietnam." Vietnam is one of the highest-growth and explosive emerging PV markets in South-East Asia, and this successful collaboration has laid a solid foundation for the company's deep cultivation of the Vietnamese market, Ms Wu said.
A spokesperson for the project's contractor, Fujian Yongfu Power Engineering, said that with its deep cultivation of the global PV industry over some decades, Trina Solar had developed a clearly superior brand, and that Yongfu had been deeply impressed by the professional standards and pioneering, can-do attitude of the Trina team.

"We place great importance on our partnership with Trina Solar," the spokesperson said. "We hope that in future the two sides can really show what they're capable of in Vietnam so we can increase our share of the market and produce benefits for all."
Trina Solar, drawing on its powerful R&D capabilities and mature manufacturing processes, will continue to satisfy global demand for high-power, high-reliability, high-output PV modules, and will make use of its leading PV products and solutions to help in the work of transforming energy use in countries and regions along the Belt and Road.