TrinaTracker's Vanguard 2P powers 17MW solar fishery plant
2023.11.01
A solar fishery power plant with tracking system provided by TrinaTracker, the smart solar tracking solutions provider that is part of Trina Solar Co Ltd (SHA: 688599), has been connected to the grid and running with high efficiency in Jiangxi province, China.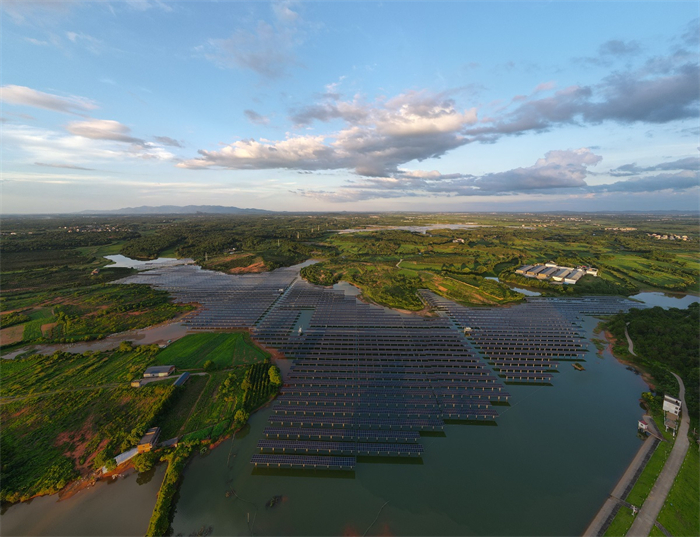 The plant, equipped with Vanguard 2P solar trackers and latest 210mm large solar modules, is a combination of leading technologies in solar components and it showcases the great potential of new solar application scenarios. The plant will produce 39.1 million kWh of electricity, and cut carbon emissions by 3,297 tons a year. By using solar tracking technology, the 17MW solar fishery plant generates 10% more electricity than does a comparable plant with a fixed-tile configuration.
Vanguard 2P is TrinaTracker's mainstream product designed for utility solar projects used in complex terrains, such as deserts, agrivoltaics, fisheries and rugged soil. The higher structure design allows sufficient sunshine to pass through the system so that the underside in farming and fishing is unaffected. In addition, the fewer piles per megawatt design greatly reduces installation difficulties and costs in harsh installation environments.
The success of this pilot project has also borne out the strength and reliability of TrinaTracker's engineering service. Zhang Liang, project engineer of Sungrow Power Supply Co Ltd, the plant owner, praised TrinaTracker, saying: "TrinaTracker has rich technical experience, a mature supply chain, leading engineering services and reliable product quality. Its product supply efficiency and fast reaction during installation guaranteed that the project would be delivered on time and within budget."
To learn more about the project, please click: https://www.linkedin.com/feed/update/urn:li:activity:7122166099982385152
To learn more about Vanguard 2P product, please click: https://www.trinasolar.com/en-glb/trinatracker/vanguard