PV ModuleTech highlights 600W+ modules' value: top bankability, high energy yield, and high returns
2022.06.27
Advanced PV products, local market and supply chains have been at the center of discussions in the PVModuleTech Conference in Napa, California. Trina Solar and many industry professionals discussed Vertex product technology and value through an in-depth analysis of the outstanding product value and bankability rating of Vertex 600W+ modules, agreeing that 600W+ modules have become the first choice for global customers.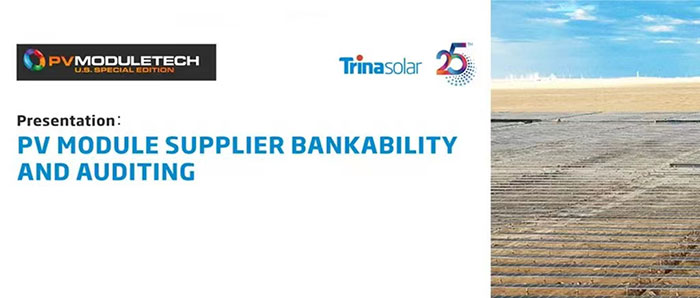 During the event, held from June 14 to 15, Trina Solar told of its excellent bankability performance. The company has been ranked AAA, the highest category, in the latest PV ModuleTech Bankability report published by PV Tech in the second quarter of this year. In addition, Trina is the world's only module supplier to score 100% in the Bloomberg New Energy Finance Bankability Survey six years in a row. This means that the global financial markets and the solar industry are confident in the innovation, reliability and stability of the modules that Trina Solar makes.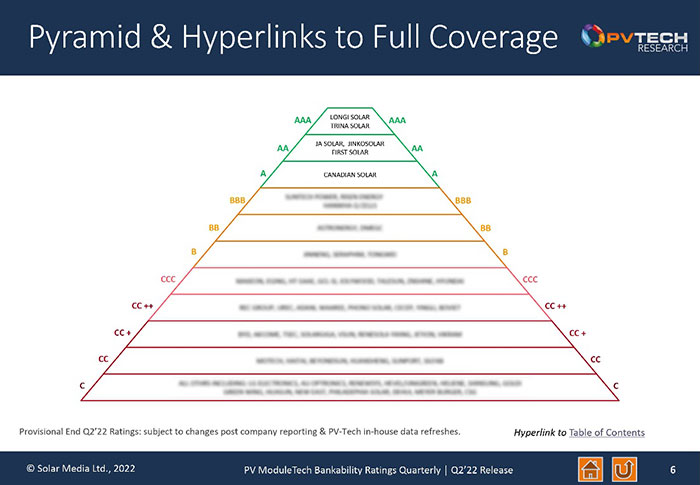 PV ModuleTech Bankability Ratings Quarterly/Q2'22 Release
Recognized as a Top Performer by PVEL for the eighth consecutive year
The outstanding bankability of Trina Solar 600W+ modules is first and foremost closely related to its excellent product reliability. In May Trina Solar was ranked as a Top Performer among global PV module manufacturers for the eighth year in a row by PV Evolution Labs (PVEL), a world-renowned third-party reliability testing laboratory. On June 22 it was named an Overall High Achiever by RETC, Renewable Energy Test Center for the third year in a row.
Significant advantages in BOS and LCOE
In terms of system value, five leading organizations – Fraunhofer ISE, DNV, BLACK &VEATCH, Enertis Applus+ and UL – have studied various module sizes in Australia, Brazil, Germany, Spain, the United Arab Emirates and the United States. Trina Solar 210 Vertex modules demonstrate significant advantages in BOS costs and LCOE. For example, Vertex 670 modules can cut BOS costs by 6% and LCOE by up to 4.1%.
Higher energy yield
In terms of energy yield, TÜV Rheinland, a global leader in testing and certification, has conducted empirical data analysis of the energy yield of Trina Solar 210 Vertex 600W+ modules on a global scale. The latest results of the field test in a project in Cologne show that the energy yield of Vertex 600W+ modules is at least 2% higher than that of reference modules.
Full compatibility with trackers and inverters
In addition, system compatibility is a key factor in assessing bankability. Vertex modules are fully compatible with the trackers of 14 global leading manufacturers and 238 inverter products of 22 mainstream inverter manufacturers.
According to PV-Tech, Trina Solar ranked second worldwide in module shipments in 2021, and an analysis has shown that the company maintained that ranking in the first quarter of this year. Its cell production capacity is expected to reach 50GW+ and its module capacity 65GW+ this year to meet global demand.
The superior product value and AAA bankability of Vertex 600W+ modules have resulted in extensive application of the products worldwide. A report by PV Infolink in April said that the production capacity of 210mm cells will reach 295GW this year and of modules 312GW. In short, 600W+ modules have become the mainstream trend in the PV industry.