12% falls in transportation cost, Trina Solar's innovative packing of 600W+ modules receives recognition from leading international ocean shipping companies
2021.03.23
On March 11, Trina Solar launched the innovative ultra-high power module 670W Vertex Module globally. The innovation of the vertical packing solution, specially developed by Trina Solar, is recognized by many international ocean logistics companies such as Maersk, COSCO, ZIM and EVERGREEN MARINE and China Postal Express & Logistics in terms of safety and cost reduction.
For 600W+ series products, Trina Solar innovates the packing method to vertical placement, so that the placement is no longer limited by the conflict between the width of the modules and the height of the container. Such packing makes the best use of the container's internal capacity. Compared with the traditional ways, the loading power increases by 12%, which introduces a 12% cost reduction in transportation.
According to Liu Xiawei, head of China Postal Express & Logistics, Changzhou Branch, the innovative packing method, which initiatively adopt the packaging of home appliances instead of the conventional double-stacked structure, can prevent damage caused by the displacement and shaking between pallets during transportation with horizontal packaging.
Maersk, COSCO, ZIM, EVERGREEN MARINE and other integrated container logistics suppliers commented, the cost of international shipping is constantly rising, and Trina Solar's packing innovation can greatly reduce the transportation cost and improve the shipping efficiency of containers, which would be the innovation benchmark in the logistics industry.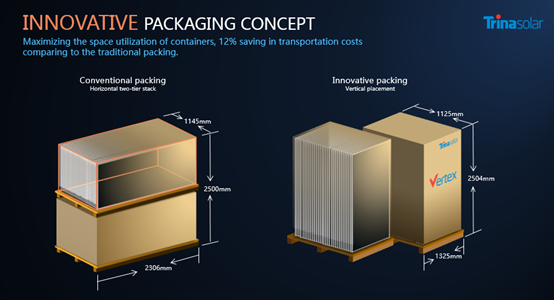 Trina Solar also expounded the safety of the whole process from product packaging to transportation and unloading. First of all, the factory packaging is completed by automatic equipment to ensure safety and efficiency; secondly, in the process of transportation, the modules pallets are closely arranged inside the container, to avoid shaking, tilt and collision; finally, stable and reliable unloading and transfer was achieved at the project site to ensure safe delivery to the customers. This new packaging and logistics method have been fully proven in terms of safety and efficient use of containers.
Module's load capacity also affects logistics efficiency. The load capacity of Trina Solar's 670W modules is also tested. The optimized frame design and material selection prevents the deformation even when the module area increases, reducing the risk of micro crack caused by the loading, unloading and transportation.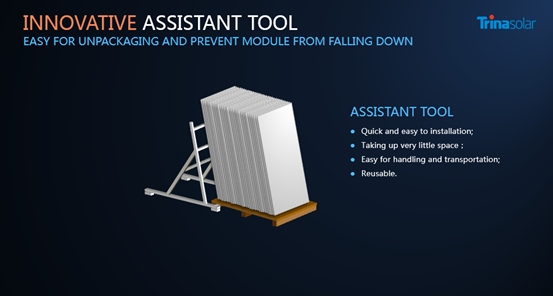 Meanwhile, for the post-transportation stage of unpacking and installation, Trina Solar provides simple and easy-to-use auxiliary tools, which can be used as the support of the box body to ensure the safety in the entire unpacking process. Many empirical studies have proved that 670W modules can lead to the overall installation cost reduction by 5% to 7%. In addition, Trina Solar has started to develop automatic installation machine, retaining only the delicate manual operations such as fastening screws. This will undoubtedly improve the installation efficiency, reduce the labor costs, and drive down the LCOE.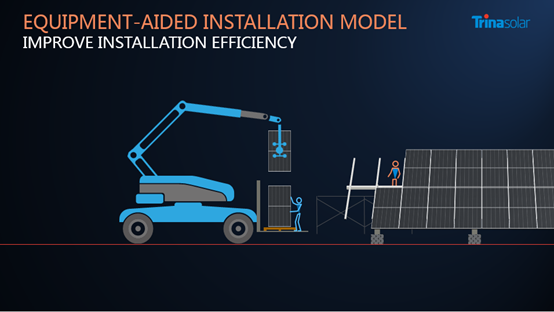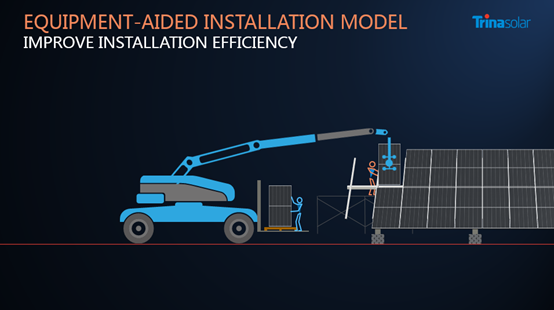 The upgraded packing method and lower transportation and installation cost of the 670W Vertex Module is another testament to Trina Solar's relentless pursuit of innovation to create greater value for the customers.