Trina Solar's Vertex 670W modules withstand strong typhoon Muifa
2022.09.22
Trina Solar's Vertex 670W modules at an empirical study site in Jiaxing, Zhejiang province, on China's eastern coast, managed to remain fully intact as they were buffeted by Typhoon Muifa as it made landfall on September 14.
Muifa was the strongest typhoon to make landfall in China this year, with strong winds of nearly 160 kph, equivalent to a Category 2 Atlantic hurricane. Evidence outdoors showed that Vertex 600W+ modules provide rock-solid reliability even in an extreme typhoon and offer stably higher value to customers.
The ability of modules to withstand extreme weather throughout the life cycle needs to be considered in the design stage. Trina Solar's Vertex modules have passed static mechanical load standard test and five rigorous tests (non-uniform snow load test, extreme low temperature mechanical load test, hail test, multiple extreme dynamic mechanical load test and extreme wind tunnel test). Test results have shown Vertex modules provide excellent mechanical performance in extreme weather such as snowstorms and gale-force winds.
China General Certification(CGC) conducted an innovative outdoor empirical study in Jiaxing on Vertex 670W modules' performance in extreme weather. Wang Shaoliang, CGC's empirical study project manager, said the strings were all installed in the peripheral area of the array of the empirical study site and were located on the roof of a 11-story building. The modules were installed vertically, and fixed tilt racking was installed with the best inclination angle in line with project site conditions. The real installation scenario of a PV power station is simulated to ensure the comprehensiveness of the empirical study.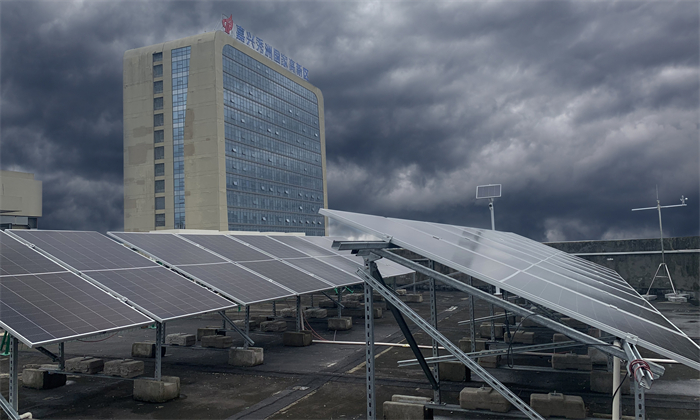 Trina Solar Vertex modules in the empirical study site in Jiaxing, Zhejiang province. Source: CGC
Trina Solar has been ranked as a Top Performer for the eighth year in a row by PVEL, besides it has been named an Overall High Achiever for the third year in a row by RETC. Adopting a user-centered strategy, Trina Solar has developed an LCOE-oriented principle, to cut down LCOE with 4 keys of high power, high efficiency, high reliability and high energy yield, opening a new channel for lower LCOE and spurring the industry to new phase.