Trina Solar attended the B20 Tokyo Summit
2019.03.13
On the 14th and 15th of March, 2019, Summit of Business Leaders from the G20 countries (B20) was held in Tokyo, Japan to focus on "Society 5.0 for SDGs". It conducted discussions on topics such as global economy, trade & investment and digitalization. Trina Solar and Alibaba attended the summit on behalf of Chinese companies.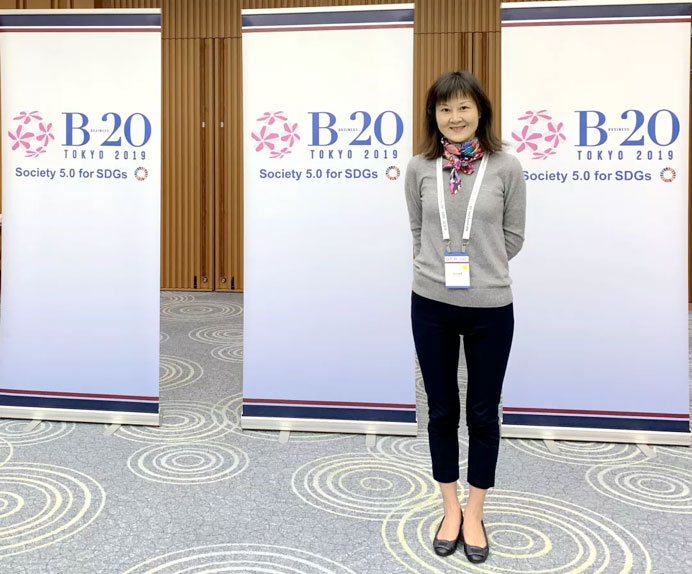 Ms. Ye Chen, V.P. of Trina Solar Co., ltd. & President of Trina Solar (Japan)
Ms. Ye Chen, V.P. of Trina Solar Co., ltd. and President of Trina Solar Japan ltd. attended this Summit. She noted that she was very honored to be invited to the B20 Summit and to join the discussions with representatives from various countries.
As a world-leading photovoltaic enterprise, Trina Solar is committed to spreading the concept of innovation, inclusiveness, openness and win-win coexistence while promoting the use of clean energy and photovoltaic applications. Spanning 100+ countries and regions, our businesses have created numerous jobs for local residents and enabled them to enjoy the achievements of solar technology innovation.
She added that Trina Solar will continue to pursue the development of clean energy and energy Internet of Things, and establish strong cooperation ties with G20 countries meanwhile promote the sustainable development. She expressed her hope for the Summit to further consolidate and expand the foundation of business cooperation, and contribute more to the common cause of mankind in the spirit of solidarity and unity of the B20 business community.
Ms. Chen and Mr. Chen, V.P. of CCPIT & CCOIC
Being the voice of the business private sector of the G20 Summit, the B20 Summit is an important platform for the international business community to participate in the process of global economic governance and international economy & trade rulemaking. Trina Solar have attended the Summit held in China, Turkey, Germany and Argentina for consecutive years and have always been actively participating in dialogues and consultations in G20 and B20. On behalf of the Global Solar Council, we have issued a proposal to G20 leaders, calling on them to attach more importance to and further support the development of solar photovoltaic industry. In 2017, Trina Solar joined the B20 China Business Council, and Mr. Jifan Gao, Chairman of the Board and CEO of Trina Solar, was elected Vice President of the Council.