Trina Solar Europe launches Dual-Glass Vertex S+ Module for Rooftops
2022.04.13
Premium solution features bifacial 210mm n-type cells and 25-year product warranty
Trina Solar Co., Ltd. ("Trina Solar" or the "Company"), a leading global PV and smart energy total solution provider, is launching the Vertex S+ module series for European rooftops. The premium solution features a dual-glass design, 210mm n-type Vertex cells and is designed for maximum compatibility as well as easy installation. Vertex S+ comes with an extended 25-year product warranty and 30-year performance warranty. The Vertex S+ portfolio features a transparent version with bifacial cells and an option with white encapsulant.
Building on the very successful Vertex S series, the Vertex S+ incorporates all Vertex signature technologies such as 210mm multi-busbar triple-cut cells, non-destructive cell cutting and high-density interconnection for low voltage and maximum string power. Additionally, the new Vertex S+ features n-type cells, boosting output power up to 425W with a 21.9% module efficiency.
In the new premium Vertex S+ series, Trina Solar has selected a lightweight dual-glass design for enhanced safety, lifespan and durability in harsh environments, replacing the conventional glass/backsheet structure. Consequently, the Vertex S+ has received an excellent class A + C fire rating according to IEC 61730:2016 standard. Trina Solar offers an extended 25-year product warranty and 30-year performance warranty with a best-in-class maximum annual degradation of 0.4%.
The Vertex S+ portfolio has been designed as a universal premium solution for residential and commercial rooftops, featuring a black frame and dark cells. It incorporates a bifacial version with transparent encapsulant for perfect aesthetics on roofs and additional power gain from the back side of the module. Alternatively, customers can choose a white encapsulant option for maximized power from the front side.
The module's characteristics ensure a high degree of compatibility with existing mainstream inverters, optimizers and mounting systems. Its size and weight have been optimized for easy handling on the roof. The use of thinner 1.6mm heat-strengthened glass reduces module weight by 2.5kg compared to standard dual-glass products, while withstanding high wind and snow loads.
Gonzalo de la Viña, Head of European Module Business at Trina Solar, said: "The Vertex S+ is the latest milestone development on our way to bring high-end technologies such as bifacial n-type cells to rooftops of any size. We are fully confident in the dual-glass design as the most advanced module structure, which is reflected in our exceptional product and performance warranty. The Vertex S family with the newly added Vertex S+ has all we need to bring Europe under the same roof and accelerate energy transition in our part of the world."
Vertex S+ will be available soon from distribution partners across Europe.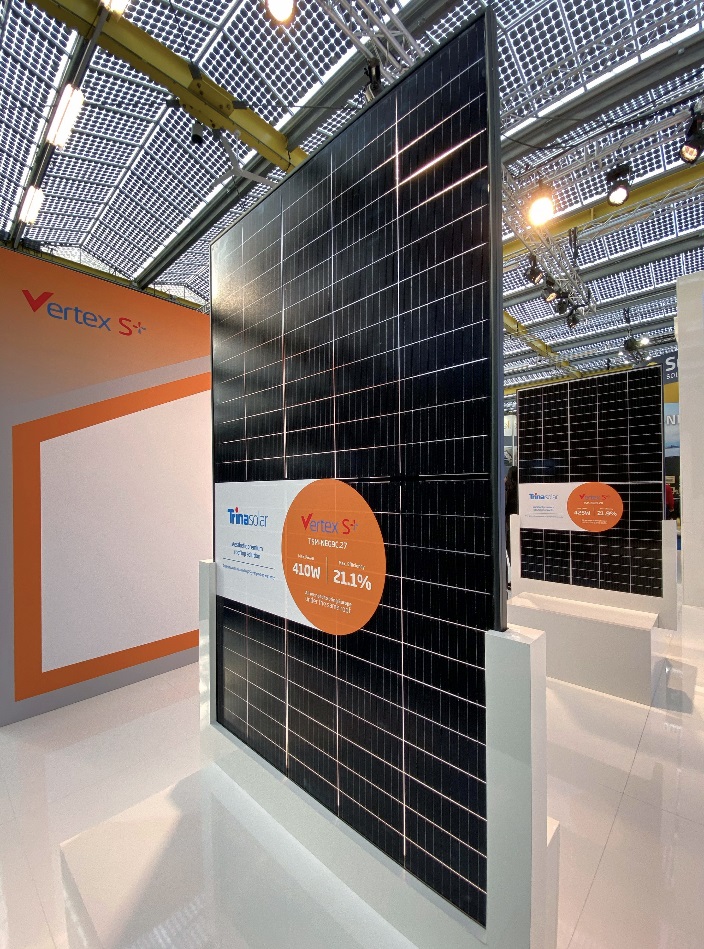 The Trina Solar Vertex S+ series (NEG9C.27 bifacial and NEG9.28) is currently on display at Trina Solar's booth D8 at Solar Solutions International trade fair. Vertex S+ incorporates premium technologies such as n-type 210mm cells, a lightweight dual-glass structure and high power, low voltage electrical design.